Lincoln students continue to work during quarantine
Many high school students are encouraged by their parents and school administrators to get involved in their community by volunteering, getting jobs and helping those around them, but because of the quarantine, everyday tasks like these have become difficult for many. While some students have found ways to support their communities from home, some are continuing to work and volunteer.
Sophomore Alex Dolle has recently been hired by the Portland Emergency Coordination Center to assist the center while responding to COVID-19. The ECC is activated only in emergency situations– such as the current pandemic– and is built to respond to the emergency at hand.
"Being a government facility, and more specifically a facility that is directly responsible for the city's COVID-19 operations, safety is taken very seriously. Upon arrival to the ECC, it is required that everyone has their temperature checked. If someone's temperature is recorded to be above 100.4 degrees Fahrenheit, they aren't granted access to the building. We also have a safety officer, whose sole responsibility is to ensure that everyone is being as safe as they can. This can be things like ensuring 6 ft. between workers, instituting safety plans, and assuring that we are doing everything we can to prevent the spread of COVID," says Dolle. 
Since the safety and help of workers are taken seriously by the ECC, Dolle is comfortable leaving his house to go to work.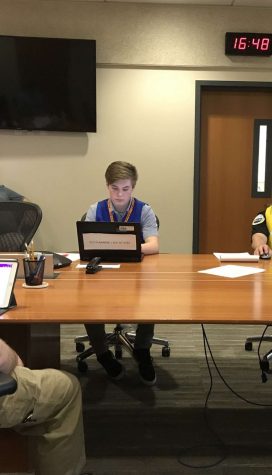 "I hope that everyone I'm working with is doing as much as I am to help flatten the curve and prevent the spread of COVID-19, and by following the safety guidance issued by the CDC, Kate Brown and Ted Wheeler; everyone's doing their part to stop the spread of COVID-19," he says. 
Another student who is working during the pandemic sophomore Matthew Imdieke, who has a job at a QFC during the pandemic.
"Recently I've been working about 15-25 hours per week, and I probably interact with about 100, if not more, people per day. They are common interactions just saying hello and goodbye, handing their bags to them, etc.," Imdieke explains. 
Similar to the ECC, QFC is taking precautions to protect their employees and customers from the virus. 
"The company provides masks, gloves and hand sanitizer. Along with this, we have daily checklists to sign off for when we regularly clean certain common areas of the store," he says. 
Sophomore Allison Asbock's job is being affected differently than Dolle and Imdieke, and she now works virtually for Congregation Beth Israel.
"I would come in on Sunday morning and work with the Kindergarteners; we would do art projects and teach them about a holiday coming up or an important value. The classes are over Zoom now, and they are only about 30 minutes long," says Asbock regarding the change. 
Although she is still working, the transition to virtual work has been difficult.
"This shift hasn't affected me that much, but the Zoom calls aren't fun, and being at a computer screen for more time is never fun," Asbock says.
Leave a Comment