Teacher finishes Boston Marathon in flying colors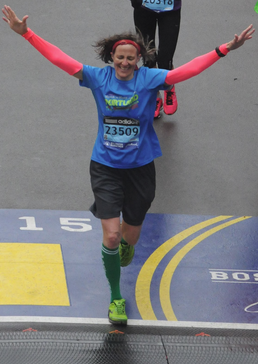 Adorned with green socks that read "Portland" and with a smile on her face, IB biology teacher Maureen Kenny crosses the finish line at the Boston Marathon in three hours, 49 minutes.
On April 20, Kenny ran with an estimated 30,000 other runners, one of whom was her brother, Ed Kenny, who finished the race with a time of 3 hours and 10 minutes. "My brother and I were both running the race, but it was all in good fun," Kenny said.
Kenny had the company of not just her brother, but her mother as well, who watched both her children run. "My mom told me she was flying into Boston to see the race, and my brother was there so it motivated me to go," Kenny said.
Although Kenny was excited to run the race, she had originally not planned to. "I injured my hamstring in January, and I went to a doctor here in Portland," Kenny said. "He told me that I should not run very much. I didn't run for two months. In early March I saw a sports chiropractor in Portland. He was very optimistic and told me I could run."
After a slow healing period, Kenny started running small distances, such as two or three miles a day. As the date of the race approached, she started training harder, building up her endurance and distance with each passing week. 
Regardless of her training, the marathon was still daunting in Kenny's mind, as it is one of the most popular events to attend in Boston. "It was Patriot's day, which symbolizes the day the American Revolution started," Kenny said, when discussing the size of the crowd. "So, everyone gets the day off. The fans were great. There was never a spot in the race where there were no fans cheering you on."
When running the race, Kenny kept her injury in mind "It was raining hard so the first few miles were tough," she reflected. "I was waiting for my body to fall apart. There was also a lot of headwind, so that made the race even harder. After 5 miles I got a good pace, and kept it till mile 23. After that steady period, I slowed down a bit but I was near the end, and I knew I'd make it."
Even though the Boston Marathon is a competitive event, Kenny was just happy to be there. "The fact that I was even at the race was a miracle. So, for me it was just the environment of the event," she said. "People were cheering you on all the time, and everyone was so supportive." Kenny was also excited that her family was there to watch her run. "It was a really great trip with family," she said, "and the fact that I ran well was frosting on the cake." For Kenny, it was about having fun doing what she loved to do.
Leave a Comment