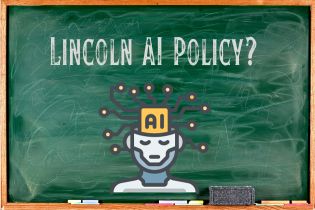 According to Education Week, 40% of teens have used artificial intelligence (AI) such as Chat GPT in their schoolwork, and Lincoln is not an exception. As a result, many teachers have changed their teaching methods to account for AI use.
Because students often use AI irresponsibly, Vice Principal Steve Pape wants teachers to show students how to use AI in a way that doesn't inhibit their knowledge.
"I don't think that a ban is a good response because [AI] is also a helpful and innovative tool," said Pape. "Teachers express that their goal is to have students use AI effectively and appropriately."
Lincoln hopes to achieve this through their new AI policy. Pape believes the goal is not for the students to be punished, but rather for students to be incentivised to do their own work.
"Let's have the focus [of the AI policy] be on the student doing the work the right way, not the zero," said Pape.
Lincoln is very close to finishing their policy which will define the new rules of using AI.
"The staff of LHS are updating their joint academic integrity policy which should be in students' hands by back to school night," said Pape.
Pape hopes that this new AI policy will allow teachers to be more clear to their students about what is acceptable in terms of AI usage.
"Teachers need to be transparent with students about what's authorized and what's not. Teachers also need to be clear about what they expect from the process to complete the work because they will use AI detecting software," said Pape.
Bliss thinks that students also need to hold themselves accountable and inform teachers if they use AI in their assignments.
"I want students to be transparent to teachers when they are using AI and cite it," said IB Coordinator Kim Bliss. "However, this can cause problems because AI such as ChatGPT doesn't cite where it gets information."
Pape agrees that AI use isn't necessarily bad. Nevertheless, he thinks students need to be careful how they are applying AI to their schoolwork.
"We want to work with kids through an educational lens so that they're using it effectively and also appropriately, while recognizing that at the same time, it might have a negative impact on [teachers] having an accurate picture of what kids know and are able to do," said Pape.