Book Review – "The Guncle"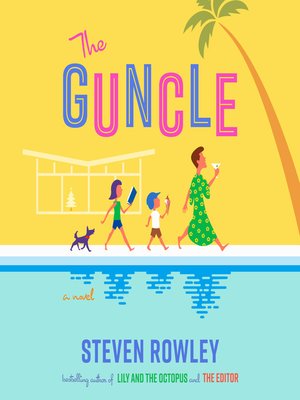 Steven Rowley wrote the novel "The Guncle," a book I never wanted to stop reading. This sounds cheesy but it's the truth. "The Guncle" is full of love, loss, challenges and laughter. The title engaged me from the start, " The Guncle" is their Uncle Patrick who is gay, so he is their Guncle. 
The book follows the lives of two children, Grant and Maisie as they go through the loss of their mother, and the separation from their father while he goes through drug rehabilitation. The kids go and stay with their uncle Patrick in Palm Springs while their dad is in rehabilitation. The book is full of tough conversations lined with love and comedy. 
The author brought the book to life with a massive amount of imagery. On every page, you could imagine the scenery around them. It engaged all the senses. One quote which stood out to me was when Patrick was sitting outside with his dog, "Marlene lay at his feet, the patio stones finally cool and offering relief from the warm night air."
The characters throughout the story are put into many tough situations, but they manage to figure them all out. Patrick or Gup, the nickname his niece and nephew call him, is a funny, strange character that is very different from other novels I have read. 
The way the author drove the story forward with character development is unique and engaging. At the start of the book, it's hard for him to express his emotions, but then he can. You can see the growth throughout the pages. Patrick finds his place in the family and deals with his own trauma. 
The story is deeper than surface level, and every chapter expresses it through the pacing. Faster passed chapters move the story forward and when it becomes slow the characters do in depth about what they are feeling.  I really enjoyed the tempo of the novel, not too slow, not too fast, and really enjoyable. It brought the characters to their resolution at the right time.
A novel with similar themes is "The House on the Cerulean Sea" by T.J. Klune,  a book which also follows a man whose life changes. Both novels have life-altering changes that they are not sure how to deal with yet. But they adapt and end up loving their new life.  Heartwarming is the perfect word to describe both books. The novels have so much bling and color. One thing in "The Guncle" that was unique was "Guncle Rules." The "rules"  are actually the wisdom that Patrick gives to his niece and nephew. They make the book unlike any other. I really enjoyed reading it made me feel like I was in sunny Palm Springs all over again. The book is a must read.