Taylor Swift is back with "Midnights" – Midnights Album Review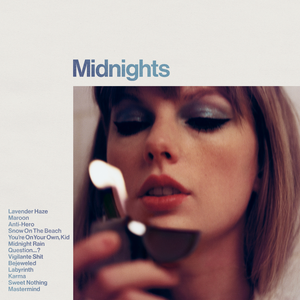 Taylor Swift has been feeding her fans with new albums for the past three years. At midnight on October 21, Taylor Swift struck again with her tenth studio album: "Midnights." The album tells the story of 13 sleepless nights throughout her life in 13 tracks, as well as seven bonus tracks on the deluxe version. Waiting for this album had me going crazy. Swift has had so much variety in genre over the course of her career, I didn't know what to expect.
"Midnights" did not disappoint. While at first I wasn't the biggest fan, it has grown on me since my first listen. This album consists of songs that are catchy and entertaining with profound meanings.
"Midnights" has a pop-like and upbeat sound to it, which is similar to some of Swift's past albums released in the 2010s such as "1989" and "reputation." This is a shift from her two most recent studio albums released in 2020: "folklore" and "evermore," which were more downbeat and slow. While I personally appreciate both sides of Swift's music and how versatile she is as an artist, I would recommend "Midnights" to someone that is a fan of upbeat pop music.
There are a few lines of this album that are confusing or strange, but the majority of the other tracks have beautiful lyrics with deeper meanings that dive into the greater theme of the album, self-reflection. One of my favorite lyrics is from "Would've, Could've, Should've," which is expressing regret about one of her past relationships: "Living for the thrill of hitting you where it hurts / Give me back my girlhood, it was mine first." I am also a fan of the bridge in "You're On Your Own, Kid."
Another positive aspect of this album were the bonus tracks on the deluxe version: "Midnights (3am Edition)." All of my favorite songs from this album were bonus tracks. Most of the bonus tracks on this album have more catchy beats and lyrics, and I often find myself listening to these tracks more frequently than the rest of the album. I like how they added to the overarching theme and helped continue to tell the stories from the main album.
While I would not say that this is my favorite Taylor Swift album, it is definitely worth a listen if you enjoy her past work or other pop albums. I thought the concept that it was built around was intriguing and that the songs were fun and catchy. I look forward to seeing what Swift has in store next.