Show Review: Action Packed "Ted Lasso," Season 2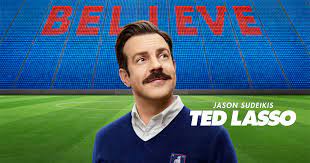 It's 2020. A struggling soccer team based in Richmond, England is looking for a new coach. In comes Ted Lasso, an American who knows nothing about soccer, but gets hired by the team owner to completely ruin the English "football" team. Instead he does the opposite. The city of Richmond has hope in their new coach and it's just a matter of time until he makes his mark on the team's franchise. 
Produced by Bill Lawrence, and starring Jason Sudeikis as Ted Lasso and Hannah Waddingham as Rabecca Welton, the owner of AFC Richmond, season one looks at the start of Ted's journey including moving to a completely different country. Fast forward to the end of season one, and Ted has now made friends with everyone he comes across, but the team itself is still not very good. Season two is where things change for the team.
Season two also introduces new characters, such as Ted's wife and kid who were in Kansas for the first season. Early on in season two, owner of the team Rebecca changes her mind about ruining the franchise because she realizes the team has potential. She brings in a sports psychologist to help bring the team closer together. One of the team's jersey and locker room cleaners, Nate, gets a promotion in season two and makes more appearances. Bringing the new characters into the show creates a bigger plot and makes the story-line better.
What also has a strong effect on the show is where scenes are filmed. The main part of the show is filmed in Richmond, including the stadium and practice facility. The main stadium used for the show is the Selhurst Park Stadium, Most commonly known as the home of Crystal Palace, located in London, England. As for the practice facility, it is located in the London Borough of Hillingdon, which is the home of Yeading and Hayes FC (Two small soccer clubs). The rest of filming takes place in or around the city of Richmond. Filming the show in known and famous places makes the show more life-like and enjoyable to watch.
A show that is comparable to "Ted Lasso" is "Welcome to Wrexham." "Welcome to Wrexham " is about two middle aged men who purchase a struggling soccer team and build it up from the ground. Like Ted and Rebecca in season two of "Ted Lasso," they realize the team has potential, and make big moves to make the team better. In my opinion, Ted Lasso is a better show but they are very similar to each other.
I suggest Ted Lasso to everyone because it has a  large and interesting plot that you can not get bored watching, and it's a very good family show with passionate and funny actors.