Movie review: Scream 2022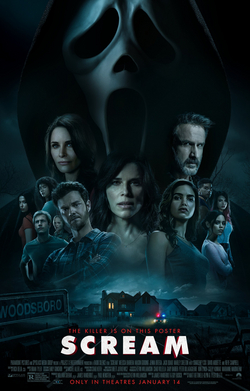 The fifth movie and a revival to the "Scream" series which began in 1996 premiered last January. The film, although an addition to the other movies, is untitled "Scream" not "Scream 5", creating a clear distinction from the other films after an 11 year gap in production.
This "Scream" follows a similar plot pattern as the first four films, but in a way that felt refreshing and meaningful. The movie follows a group of teenagers as they fight the unexpected reappearance of a familiar enemy to their town, Ghost Face. The cinematography has a modern and elevated feel compared to the other movies, but still delivered the same teenage-slasher feel as the previous movies in the series.
The director of the first four films, Wes Craven, who passed away in 2015 was key in casting and directing the outstanding performances and ultimate feel to the movies.
Taking on such a beloved series like "Scream" with the absence of Craven is no easy feat. Directors for the new "Scream", Matt Bettinelli-Olpin and Tyler Gillett, provided great references to the original, but without Craven's direction parts of the new "Scream" seemed unfamiliar. The new cast felt partially put together, with impressive performances from leads Jenna Ortega and Jack Quaid, but missing that level of talent across the entire cast. Luckily the main cast included reapearences from the 1996 film, bringing back old characters in a way that felt relevant rather than unnecessary.
Neve Campell as Sydney Prescott, Courteney Cox as Gale Weathers and David Arquett as Dewey Riley provided much needed closure from the incomplete ending to the original movie. They utilized the returning characters' experience with Ghost Face to help the younger cast of the new "Scream".
The movie added other nostalgic touches, allowing the audience to reflect on past movies in the series along with the place the new "Scream" takes alongside them.
Sam Carpenter– played by Melissa Barrera, was the daughter of Billy Loomis, one of the killers in the original 1996 film. Members of the films main friend group Wes Hicks, Mindy Meeks-Martin, and Chad Meeks-Martin were related to characters in previous movies, making the viewers reflect on the connections inside the "Scream" universe. Small details like this made the film cohesive to the rest of the series, even without Craven's direction. The 2022 "Scream" attempted to create a new storyline for the series, one that will be continued in "Scream 6," scheduled to be released sometime in 2023. With another film on its way, it is clear that this new line of "Scream" movies can have the same lasting impact for the new age of horror fans it hopes to attract.
Overall the new "Scream" is definitely a great movie for "Scream" fans who want a fresh take and new perspective on the classic.