Review: "Wednesday"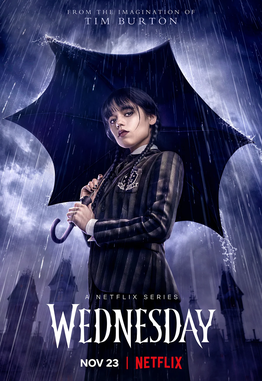 In November of 2022 Netflix released its long awaited spin off of the "Addams Family" television show, "Wednesday." The director, Tim Burton, takes the original characters created by Charles Addams and puts them into a modern and gloomy setting. 
The show follows a teenage version of Wednesday, who was originally the 6-year-old daughter of the family, as she attempts to control her new psychic ability, stop the killings in a nearby town and find the truth behind a mystery connected to her parents. 
The show itself is categorized as dark, woeful and cynical by Netflix, but its wittiness and grim humor kept me engaged and energized. Wednesday, played by 20-year-old Jenna Ortega, has had major character reinvention since the original show. Her morbid and sarcastic nature has remained, but it has also become less defining, making room for Wednesday to realize the value of teamwork, friendship and personal connections. 
The new adaption of the character also goes through classic teenage experiences. When Wednesday arrives at her new boarding school, Nevermore Academy, she meets her roomate and first true friend, Enid, a werewolf played by Emma Myers. I saw subtle change to Wednesday's character through this friendship as she joins a school event for the first time, goes to a dance and warms up to human interaction. Throughout the series, Wednesday begins to appear just a little bit more like an average teenage girl. 
The acting was incredible, with Ortega capturing the cold demeanor of Wednesday while also including the nuances, such as blinking or pursing her lips, when emotion is needed. Throughout the show Wednesday keeps a fixed stare. However, in especially happy moments like winning a school sporting tournament, Ortega eases Wednesday's harshness and gives the audience a small smile. Over the course of the series, Ortega perfectly executes remorse, grief and excitement to establish Wednesday as a young adult who has grown beyond a simple macabre personality. 
The plot of the show moves quickly. The overall storyline has a balance between solving mysteries and a struggle with self-identity. While the murder mystery portion of the show was exciting and sinister, I found the teenage romance slow and stagnant. Wednesday had two love interests and the whole romantic aspect felt forced. 
Another flaw was the consistency in the plot. The objective of the first three episodes is to set the scene of Wednesday's magical world. It seems to drag on without direction, with minor additions to the overall story and barely any connections to the plot. However, by the fourth episode a switch is flipped as the show suddenly catches tempo and is gripping.  
Overall, the transition from Wednesday as a child to her teenage years was wonderfully thought out, the acting was great and the plot was satisfactory. The show is a good follow up to the original "Addams Family", and allows viewers to see Wednesday grow up to be a little more normal than they might have imagined.