Review: "Punisher" by Phoebe Bridgers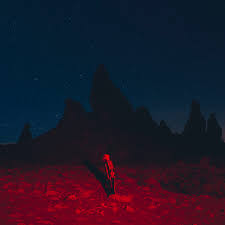 In June 2020, at the height of the pandemic, when we were all feeling anxious, isolated and a little bit sorry for ourselves, we were gifted with singer-songwriter Phoebe Bridgers' newest album, "Punisher."
It is easy to get lost in her airy, yet somehow biting, vocals, beautiful poetry and spacey production. Bridgers writes music so sad it makes you wonder if it is cathartic or simply self-destructive. Whether or not her music is to your taste, it is impossible to deny that Bridgers is one of the best songwriters of this era.
From the melancholic guitar strums and reversed strings of "Smoke Signals," the first song on Bridgers' 2017 debut album, "Stranger in the Alps," she established her signature, dreamlike sound. The way the instruments all blend together and the bass reverberates creates a soundscape almost like being underwater, where the music surrounds the listener yet simultaneously feels distant. 
While "Stranger in the Alps" has a calmer, more intimate style, the 11 tracks and 40 minutes of "Punisher" allow Bridgers to hone her skills and develop a more grandiose musical palette. In "Garden Song," she writes one of her best lyrics ever, using run-on sentences to describe a dream, giving the viewer glimpses into her past and delivering a hopeful message about growing from trauma. 
Brandishing glorious horn and string sections, the grandiosity that "Stranger in the Alps" only hinted at on songs such as "Motion Sickness" and "Scott Street," comes in full force on "Punisher" with "Kyoto," "Chinese Satellite" and "ICU."
 In perhaps the album's most powerful moment, the final track, "I Know the End," builds from a slow, downtempo ballad into a nightmarish explosion of sound, with booming drums, orchestral fanfare and a heavy metal scream, releasing all the apocalyptic tension that had been building throughout the entire album.
Despite only being on the scene for a few years, Bridgers has already proved her skills as a songwriter and made a name for herself in the music industry. Frustrated by how women in rock are often pitted against each other and othered, Bridgers formed the supergroup Boygenius with fellow female emo rock musicians Julien Baker and Lucy Dacus. She has gone on to collaborate with numerous acclaimed artists, such as Kid Cudi, Paul McCartney and, most recently, Taylor Swift, on her new song, "Nothing New." Earlier this year, "Punisher" was nominated for "Best Alternative Music Album" in the 2021 Grammy Awards.
In these surreal—bordering on apocalyptic—times, Phoebe Bridgers writes a fitting soundtrack. She gives a voice to these liminal moments of boredom and anxiety, and is a powerful force in the music industry that I enthusiastically recommend.