Alumni Corner: Where are Vivace alumni now?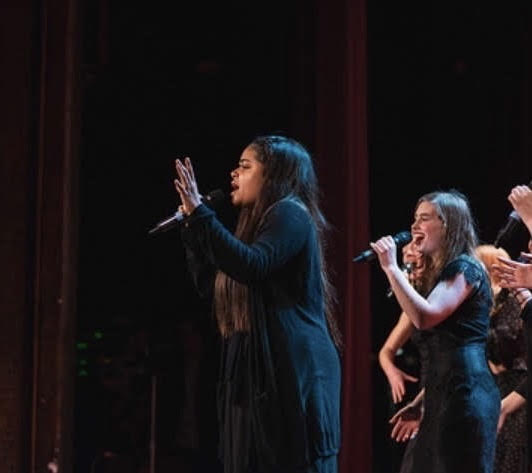 Throughout its time, Vivace, Lincoln's student-led a capella group, has seen many talented singers pass through its body.
With Vivace's first competition coming up on Jan. 28, Cardinal Times reporters Elena Valdovinos and Camilla Correani decided to sit down and talk with some of the alumni who have participated in this student-led music group. 
Charlotte Odusanya is a Vivace alum who graduated in 2019. She participated in Vivace for all four years of high school, and is currently majoring in musical theater at Emerson College in Boston. Odusanya has recently been auditioning for bigger projects.
"I've always loved singing with people and I'm lucky enough to say it's a part of my life now. […] My dream is to become a household name in the Broadway world," she said. "I would love a family, but career wise I would love nothing more than to be doing performing arts."
Odusanya continues to find ways to incorporate the arts into her life. 
"It's little things every day like someone singing on the street, or going to visit a piano bar. When something is as important to me as performing arts, I will always find a way to have it be a part of my daily routine," she said.
For people who want to partake in the arts as a career, Odusanya offers advice.
"Know your worth! Do not settle and take any mess from people to further your career," Odusanya said. "You deserve respect. Standing up for yourself in this industry will only help you in the long run." 
Abbey Russell is a Vivace alum who graduated in 2021. She is currently attending Washington University in St. Louis and majoring in cognitive neuroscience and music. Like Odusanya, Russell was a member of Vivace for four years, and acted as a music director for three. Her participation in Vivace led her to gain leadership skills, close friendships and exciting experiences.
"Vivace affected my life in the biggest way. Aside from giving me some of my closest friends, Vivace allowed me to express myself and connect with people I may have never known throughout high school," Russell said. "Every year, there were people in Vivace who were super different from myself—different grades, interests and just overall lives. But music was able to bring us together and connect in a way I never could have imagined. That experience always reminds me to just try new things, as you never know who you might miss out on knowing."
Since graduating from high school, Russell has continued to find ways to incorporate her love of music into her life. 
"College has been amazing because there are so many different ways to get involved with music," Russell said. "Currently, I am taking two music courses (one about composition and another about popular music and how it influences culture and inequality). I am in a music therapy group called Beat Therapy where we go off campus once a week and play music for and dance with kids with autism as a way of self-expression." 
Not only does Russell use music to express herself, but also as a way to connect with people. 
"I am also in a performing musicians resource group who regularly hosts events to connect WashU students with other musicians. Finally, I am in a music production club and am thinking about starting a songwriting club with a friend," Russell said. "So, clearly, music is still a huge part of my life and I don't think that is something that will ever change."
Russell hopes to get a second degree in music composition or production to ensure that her passion for musical creativity stays in her life.
"If neuroscience doesn't work out, being a composer or a producer is something I would love to do," she said.
Vivace is a strong community that fuels a passion for music students that they often carry with them post-high school. Current members of Vivace find this inspiring.
Junior Kylee Wilkinson has been a part of Vivace since her freshman year and is now the president. Over the years, she's watched students grow and leave high school, but Vivace's current members and alumni stay connected over their love of music, and have worked hard to keep an indestructible bond despite physical separation. 
"As the seniors of the group graduate and move away, it can be hard. The dynamic of the group definitely changes as the years go on, but I still have an amazing relationship with a lot of alumni," Wilkinson said. "I love hearing about what they are up to and what they have accomplished."