New music releases: October – November 2021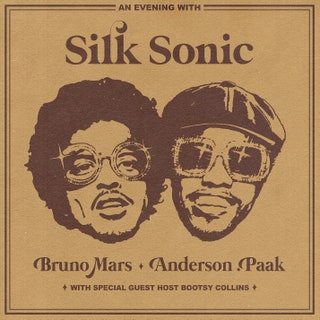 Several albums by famous musicians such as Ed Sheeran, superduo Silk Sonic and Taylor Swift have been released in the past few weeks. 
Cardinal Times reporter Lia Althouse reviews some of the most popular new albums. Note that this list focuses on mainstream music and is in no way comprehensive.
An Evening With Silk Sonic – Silk Sonic
Silk Sonic, a group made up of singer Bruno Mars and rapper Anderson Paak, released "An Evening With Silk Sonic" on Nov. 12, 2021. The album received positive reviews from most critics, with music magazine Rolling Stone giving it four stars out of five. The album takes heavy inspiration from soul music of the 1970s, and, according to Rolling Stone, Silk Sonic "hunted down old drum magazines to make sure they were using the right snare and conga [drum] heads." The group also brought in older musicians of the genre, such as Larry Gold and Bootsy Collins, as advisors. The result is an album that focuses on having a good time and is worth a listen for anyone looking for enjoyable and catchy music. In my opinion, the album runs a little short, but perhaps that's for the best. The production is consistently fantastic, and I would certainly recommend it to anyone looking for a good time.
Favorite songs: "Fly As Me," "Put On A Smile"
Red (Taylor's Version) – Taylor Swift
Fans of Taylor Swift are likely already familiar with her 2012 album "Red." The album, which catapulted Swift into mainstream popularity, is acclaimed by many, with music reviewing website Pitchfork giving it an 8.5 out of 10. "Red (Taylor's Version)" is a re-recorded version released on Nov. 12, 2021, and includes several songs that were cut from the original release, as well as remastered versions of the songs originally released on "Red." This time around, artists such as Phoebe Bridgers and Ed Sheeran also appear for features on a few tracks. Critical reception has been positive, with music reviewing site Metacritic giving it an average score of 94 out of 100 from several critics' rankings (the highest average on Metacritic of any of Swift's releases). Personally, although many of the changes are subtle, the album is certainly worth listening to for both new listeners and listeners familiar with "Red," especially considering the original is such a classic album. 
Favorite songs: "All Too Well," "Nothing New"
30 – Adele
British singer Adele, who hasn't released a new album since 2015, released "30" on Nov. 19, 2021. Magazine Entertainment Weekly gave "30" an A- ranking, describing it as a "surprisingly personal album that shows how Adele has matured." At an hour long, "30" is grand and sweeping, combining lush and diverse instrumentals and choirs with personal, introspective lyrics, such as on the third track, "My Little Love." The track is dedicated to her son and her complicated feelings about motherhood, and it closes with a clip of Adele speaking about her insecurities and emptiness. This intimacy carries through the rest of the album, making for an  emotionally raw experience that surprised me at times with its honesty. I would certainly recommend it to anyone.
Favorite songs: "My Little Love," "To Be Loved"
Have any recent music suggestions? Write to the Cardinal Times ([email protected]) or reach out to us on Instagram (@cardinaltimes).