Review: Little Big Burger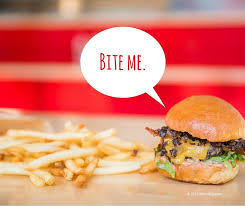 Little Big Burger is a burger joint located in several places around Portland. It is a small business that makes great burgers and fries and is known for their "little" burgers. Although they may look small, they are very appetizing and filling, and along with an order of their famous "truffle fries" and root beer float, very filling. 
Little Big Burger also serves new "beyond beef" burgers which are eco friendly, vegetarian, and taste just as good. I like little Big Burger because of the small menu, making orders simple and easy. All of their food is really well made and cooked to perfection and I always look forward to eating there. It's a great place to walk to and sit outside and spend quality time with friends. The meals are cheap (ranging from 5 dollars to 10 dollars for a complete meal) and well worth the money. 
During the pandemic, Little Big Burger has been open for takeout and delivery.,  I can't wait until the pandemic is  over so I can  go  with friends and sit inside and enjoy a meal. 
According to their menu, all of their beef is organically raised in grass fed farms all over Oregon. Another great thing about Little Big Burgers is their sauce. It's so delicious and consists of their secret ingredients. They also offer ketchup and catsup (the spicier kind of catsup). 
Little big burger is different from fast food franchises that are owned all over the world. Little big burger is unique and its burgers are nothing like the same old fast food ones. Mcdonalds, Burger King, and Wendy's as well as all the other classic fast food places have the people who like them for the price and size, but I think little big burger outshines these places because of the quality that they dedicate to their food and service. 
I recommend a little big burger to all people. Vegetarians can enjoy the "beyond burger," purely made from non meat products. I've had it before and can't tell the difference. Little big burgers are healthier than fast food restaurants because of the quality of their organic local food. I know people who like burgers will like this place, trust me. I love little big burgers.