Review: Queens Gambit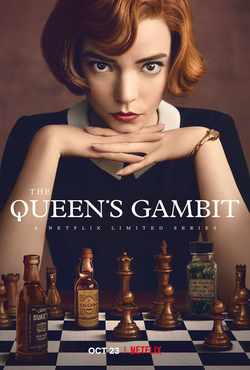 The limited series "The Queen's Gambit," directed by Scott Frank, is a brilliant series showcasing the intense world of competitive chess. 
All the actors are extremely talented, especially Anya Taylor Joy, who appears as the main character in the series, chess prodigy Beth Harmon. She perfectly captures the emotions that come with dealing with loss, fear, pain and addiction. 
The witty dialogue and intriguing  course of events is how I got attached to the show, and through that felt the effects of Beth's emotional and competitive failures and successes. The story also covers Beth's struggles with drugs and alcohol, without making that the main focus of the show, but also not brushing over it. 
The show mainly took place throughout the mid 1960s, and the time period definitely helped tell the story. The era was portrayed through the sets. Getting bigger and more grandiose each episode, the sets show the progression of Beth's life, starting in a dark, cold orphanage, and ending up in a grand hotel in Moscow, Russia. 
Another way to tell the progression of time and the story is how the characters dress. In the beginning, Beth is always dressed in browns and plain colors. As she gains money and develops her own style, she wears brighter colors and different styles of dresses, with fuller skirts. After some time she returns home, and wears more pants and blouses, showing her maturity. In the final scene, she is seen in an all white outfit, with a hat that looks like the queen chess piece.
Finally, another great thing about the show was the directing. Scott Frank made a show about chess interesting to the general public, with a strong female protagonist who also had weaknesses and flaws. This is some of his best work yet for sure.
"The Queen's Gambit" reminded me of  a film  that shows strong smart women in the '60s. "Hidden Figures" tells the story of three Black women who are working at NASA to help win the Space Race. In both series, the women are underestimated and their talents held back by the judgement of others. In the end, they overcome all their obstacles and get to their goal. However their journeys to success are quite different. While "Hidden Figures" tells an amazing story, and features three outstanding female leads,"The Queen's Gambit" hones in on one main character, illustrating struggles with addiction, alcoholism, grief and mental illness. Overall both works were great, but to me "The Queen's Gambit" had a deeper storyline, perhaps because it was a multi-part series rather than a two hour film. 
If you are looking for an unusual, entertaining, exhilarating story, "The Queen's Gambit" is definitely for you.