Review: Good Luck Charlie: It's Christmas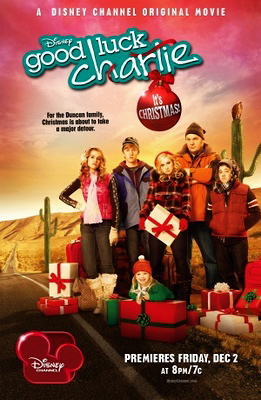 Released in  December 2012, Good Luck Charlie, It's Christmas was a huge sensation for everyone who watched the Good Luck Charlie television show on the Disney Channel. I liked this movie because it showed me why spending time with family during the holiday season is important.
Good Luck Charlie, It's Christmas explores the life of Charlie (Mia Talerico) and her family Teddy  (Bridgit Mendler), PJ (Jason Dolley), Gabe  (Bradley Steven Perry),  Amy (Leigh-Allyn Baker), and Bob (Eric Allan Kramer) during the holiday season when they are planning on visiting her grandparents in Palm Springs. 
I liked the acting in this movie, especially Charlie.  Mia Talerico plays a very convincing toddler. I like her curiosity as a two year old. Charlie's big sister Teddy is played by the talented actress/singer Bridgit Mendler who makes video diaries to give to  Charlie when she's older. Mendeler makes this character Teddy loveable and sweet.  
Individual scenes are a strength in this movie. One of my favorite scenes is when Amy (Charlie and Teddy's mom)  reveals to everyone that she is having another baby. This surprise that Charlie is becoming a big sister was really satisfying.  
The plot of this movie is a classic mix up. As the family is traveling, the gate agent offered a free ticket to a person who is willing to give up their seat on the plane. Teddy takes up that deal,which leads to the family getting separated and then they get reunited in Palm Springs.
I have seen many Christmas movies in my life, such as Arthur's Christmas, How the Grinch Stole Christmas (both the 2000 and 2018 version), and many more. Nothing can beat Good Luck Charlie, It's Christmas. The acting of the movie was spot-on; the funny parts were funny. There's nothing wrong with this movie.  
If you like holiday movies during the holiday season, watch Good Luck Charlie, It's Christmas because it brings happiness and joy. I would give this movie a solid 9.5 out of 10 because of how fun and entertaining the Duncan family is.