Authentic food and spirited ambiance at Pambiche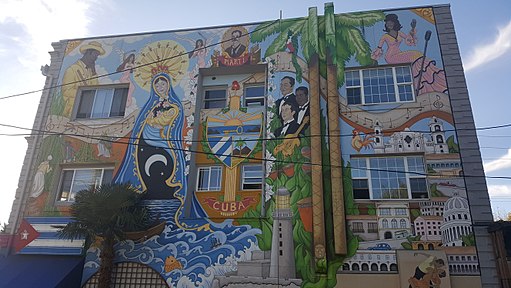 Hang on for a minute...we're trying to find some more stories you might like.
Pambiche, a Cuban restaurant on NE Glisan, is acclaimed for its mural of la Virgen de la Caridad and its beautiful representation of the island. The restaurant is also known for its authentic food and fun decor. Cuban food comes from a blend of many different cultural influences. It is derived from an integration of African, Caribbean, Taino and Spanish cuisines, all melded together to create simple yet flavorful dishes.
I was initially greeted by multiple caffeinated workers who suavely twirled past and around the sea of diners in order to reach their next destination. The restaurant was buzzing with a euphoric mood. As I was seated, the decor immediately drew my attention with its vibrant, dynamic colors. The lively Cuban music produced a spirited ambiance.
We ordered and did not have to wait too long for the food to come.The typical Cuban dish consists of rice and beans cooked together or apart. The specific dish I ordered was called Congri, which was a rice and beans dish that was mixed together and molded into a perfect cylinder. It was filled with flavor yet very basic at the same time. I also ordered plantains which the menu referred to as "Cuban fries." They were perfectly paired with the accompanying hot sauce and banana sauce. The empanada, a hollow dough like roll filled with a blend of spinach and cheese (espinacas con queso) was delightful.
Pambiche is a must try restaurant. From the customer service, the delicious food, and the beautiful decor, you will eat Cuban delicacies and not want to leave. Now that I have had the true Pambiche experience, I will certainly be coming back for more.