Top Trending: Starbucks is "Anti-Christian"?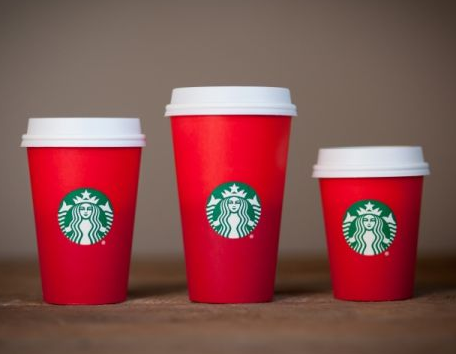 Joshua Feuerstein's video commenting on Starbucks' new Christmas cups has the internet split. On one side, his supporters claim the same as he did, that Starbucks was in the wrong to remove elements of Christmas. The others (meaning the majority of people) are simply asking, who cares? 
On Nov. 5, Feuerstein, a so-called social media evangelist, posted a video of himself protesting against Starbucks' new Christmas plain red coffee cup design with the logo in green.. This design followed the original one that featured white ornaments and doves with words such as "peace"  on them.
What infuriated Feuerstein was that the cup lacks the words "Christ" and "Christmas." He says he told the employee who served him that his name was "Merry Christmas," forcing the barista to say the missing words.
He ended the video by calling out to his 1.8 million followers on Facebook to use #merrychristmasstarbucks on social media sites. In addition, he encouraged his viewers to go to Starbucks and also tell  their barista their name is Merry Christmas.
Since then, his video has racked up 15 million views and a profusion of controversy. Yet Starbucks never featured the words he claimed the company had "removed." he company has only used those words  on its "Merry Christmas" gift cards and its "Christmas Blend" coffee. What Starbucks DID remove from the cup were symbols of reindeer and snowmen, but they have no relevance to the religious aspect of Christmas Feuerstein is defending.
Other criticized Feuerstein because of he called to his followers to go to Starbucks. Sirius XM political talk show host Pete Dominick debated with Feuerstein on CNN, referring to him as an entrepreneurial bigot. Dominick, who struggled to hold back his laughter, claimed that by encouraging his viewers to protest by going to Starbucks, instead of boycotting, is only going to help the company and make them less likely to change their policy.
"Maybe what he should do, to get the same outcome, is buy a pastry or sandwich [from Starbucks] for a homeless person and wish them a Merry Christmas," he said. "He'll get the benefit without all of that hatred and bigotry and cynical self-promotion."
The story about Starbucks' "offensive" coffee cups has brought up by celebrities such as Stephen Colbert and Ellen Degeneres. But nearly every celebrity who has talked about the issue agrees that creating hype over a coffee cup with nothing offensive on it is pointless.
Leave a Comment
Donate to The Cardinal Times
Your donation will support the student journalists of Lincoln High School - OR. Your contribution will allow us to purchase equipment and cover our annual printing and website hosting costs.