New Student Club gains popularity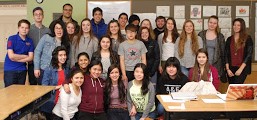 Montes Mendez is used to moving around. She has lived in Brazil, Mexico and Ohio, and now she is president of the New Student Club, which has quickly become one of Lincoln's biggest and most popular clubs, with 30 active members.
Mendez wanted to provide new students with a place to get support, so she joined forces with Hanisi Accetta's leadership class to help create the now thriving organization. "The reason this club has grown so quickly is because there wasn't really a place for new students to start out at school," Mendez said.
The club has organized activities outside of school in addition to its lunchtime meetings in Room 141 every Tuesday. So far, its members have been laser tagging and ice skating. "The main focus is to create a welcoming environment and support for new students," Mendez said. At club meetings new students also get updates on Lincoln events and get help finding activities that match their interests. "I really hope to establish this in a way that it can keep growing, and it can keep going after I graduate," Mendez said.
Leave a Comment