Warm Springs Tribe deals with ongoing water issues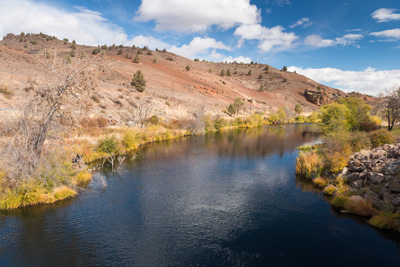 Just under two hours by car from Portland and an hour's drive from Mt. Hood, the residents of Warm Springs Reservation have been dealing with a water crisis for years. 
This water crisis stems from the lack of funding and faulty infrastructure of the nearly-40-year-old water plant on the reservation.
Dan Martinez, the emergency manager of the Confederated Tribes of Warm Springs explains the impact the faulty infrastructure has had on the Warm Springs Reservation.
"We had an infrastructure that was failing and causing a lack of water sources for the major part of the Warm Springs community. So these water breaks were not only turning off the water to 90% of our facilities, but also caused issues with drinking water that was needed," Martinez said. 
In 2018, as a result of this infrastructure, the water shortage on the reservation was so severe that it had to rely on outside sources to provide shower facilities and restrooms. 
"We had to think about the handicapped and the elders. It became somewhat of a struggle, not only to serve the community without water, but also how to gain access to drinking water," Martinez said.
He also explained that the situation was further complicated by the outbreak of COVID-19.
"In retrospect, you couldn't wash your hands and we had school closures in most of 2020 and so a lot of kids were being exposed to basically contaminated water once we did get it flowing", he said. 
Martinez is thankful President Biden signed an infrastructure bill in November that promised $11 billion to fund Native communities across America.
"Thank God the infrastructure bill passed last month. The logistics now is fixing the infrastructure, which is going to take, you know, between $45 million and $100 million just to get it underway … we're on the slow recovery and I anticipate two to three years to get it to satisfactory," Martinez said.
Tim Swinehart, Lincoln's environmental justice teacher, taught about the Warm Springs water crisis last year. He explained that the proximity of the Warm Springs surprised many of his students who have only heard about water issues far from home such as the lead crisis in Flint, Michigan and the concerns over fossil fuels in the Standing Rock reservation in the Dakotas.
"Sometimes it can feel like, even though it's the US, that's kind of over there. For a lot of students that have been up on Mount Hood or they've driven to Bend, you drive through the Warm Springs reservation so it's something that people know … and it's close and so I think it did bring it closer to home … I remember a lot of students saying, 'Oh my gosh, how have I not heard about this,'" he said.
Swinehart also expressed the importance of education and of understanding the history that has led to this point.
"I think in that process of becoming more conscious about issues and the way that various issues connect to each other then the opportunities for how to take action in meaningful ways present themselves … Actually starting to learn about and look into, what does it mean for us, for people who live within an identity of settler colonialism, right? That's sort of our positionality in the world. What [it looks] like to start to decolonize our own lives, to decolonize our relationships in the world, and the way that we move through the world," he said.
If individuals are interested in donating to the effort to provide the Confederated Tribes of Warm Springs with access to clean water, they can donate to the Chúush Fund in partnership with the Confederated Tribes of Warm Springs.