Rowers go for six hours to conquer cities during club fundraiser
Rowers crammed into the Portland boathouse Oct. 15 for Rose City Rowing Club's annual ergathon.
The ergathon is a fundraiser that the club does every year to raise money and consists of rowers being split into five teams all named after colors. Participants on each team row individually on a rowing machine as hard as they can for 90 seconds, then rest until the rest of their team goes. They keep at this for six hours.
However, teams don't just win because they go fast, although that is a major part of it. Strategy is also involved. Each team received a map to track meters rowed. Accumulated meters are then used to conquer cities, and at the end of the day, the team with the most cities wins. This year, the orange team won with a total of 48 cities and over 98,000 meters rowed. "After your second time on the rowing machine you feel like you can't go anymore," sophomore Charlie Hay said, "then you slowly realize in horror  that you have to do 12 more."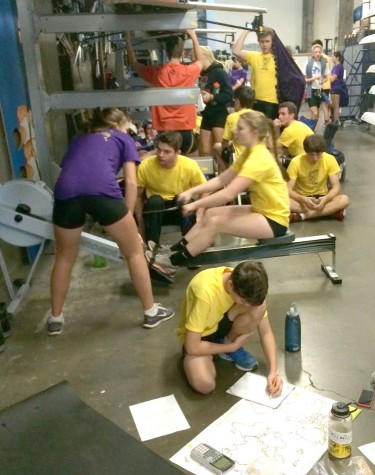 Leave a Comment