Profile: Michael Schneller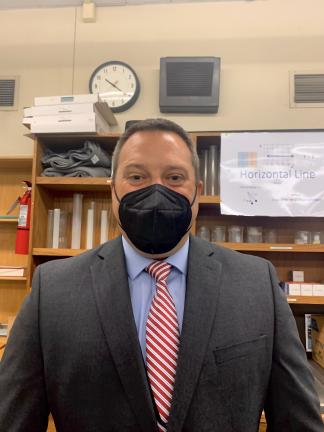 Michael Schneller is an administrative practicum student from Portland State University here to learn to become an administrator, for example a principal or vice principal. He is also a physics teacher. 
"My role right now is basically just being a student. I'm here to follow [the administration] and learn from them," said Schneller. "[I'm] like a student teacher, except this is for an administrative role."
He shadows the admin team and provides support. He decided to work at Lincoln because of its International Baccalaureate (IB) program and to do his practicum, which is similar to an internship but for an administrative position.
"I wanted to come to Lincoln because it has a very strong IB program. I'm [also] doing my admin practicum," he said. "I'm learning to become an administrator, so I'm working alongside the administration here at Lincoln."
He mostly helps out with things like covering classes when they need a sub, going to games and supporting the administrative team when it comes to the IB program, which he knows a lot about.
"He provides a great deal of support to our admin team as he brings a wide range of knowledge about the IB program, specifically around the Middle Years Program (MYP)." said Vice Principal Brida. "As Lincoln begins the process of becoming a fully authorized MYP School, Mr. Schneller works with our MYP coordinator Mr. Slusher."
In addition, Schneller has also been teaching physics for 15 years and agreed to teach a freshman physics class.
"I agreed to teach one freshman physics class as long as I was here, so I'm also a teacher," he said. "I've taught all sorts of different sciences… but I am first and foremost a physics teacher. I love physics."
He enjoys interacting with students in whatever ways he can: teaching, attending games, and talking to students whenever he gets the chance.
"I really enjoy the time that I have in the classroom to interact with students because it helps me get to know them a little bit more than if I were only acting as an admin," said Schneller. "I also attend a lot of the games that we have. I just take the opportunities that come along, whatever they may be."
He has many hobbies outside of school, like playing chess, skiing and being in the outdoors.