A girl, not a chair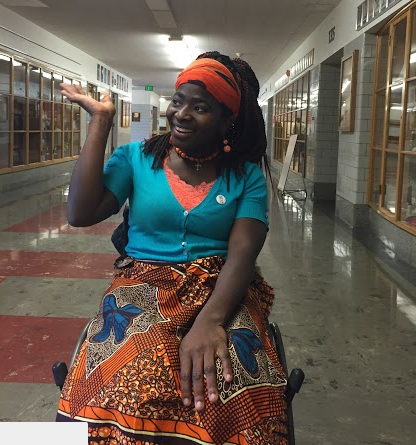 There are five short minutes between classes. For many Lincoln students, that's enough time to chat with a friend, stop by a locker and get a foot in the door before the bell.
Not for senior Yatta Barnett. She pushes through the crowded halls in a wheelchair. Her braided hair and bangs, intricate and beautiful blouses, and long flowing skirts she stitches herself hint at the creative side of a bubbly personality. She hasn't let a wheelchair define her. Her nickname, after all, is "Miss Sassy-pants."
Through the crowded halls of Lincoln, she rolls with it.
"It is a struggle to get through the hallway, everyone is always in the way. I'm used to it. I just pass by them and roll over them, and I don't care. I say 'sorry!' and I turn around and start laughing."
Born Yatta Dolo in Liberia, she was just 4 when she started to feel excruciating pain in her right leg. She could barely move it and a stiffening cold settled in in her body.
"My whole body got cold," she says. Sitting by a crackling fire was not enough to warm the frozen feeling settling in her leg. Day after day, basking in the sun wouldn't thaw her cold body.
As soon as she received medical attention, doctors diagnosed her with polio. The highly infectious virus, eradicated in much of the world, can lead to paralysis and sometimes death, with children under age 5 most vulnerable.
Today, Barnett feels lucky polio didn't affect her badly as it could have, but the affects of her affliction changed her life in ways she couldn't imagine.
.
With nine children, her parents realized they couldn't care for young Yatta. They knew she needed better care and sent her to the Jahzjet orphanage in Monrovia, Liberia's capital, at the age of 7. But better care was a short-lived dream.
Being disabled in Liberia, a country on the northwest coast of Africa, isn't the same as being disabled in America. Wheelchairs are a rare commodity, health care is spotty and false facts and discrimination surrounding disabled people are inaccurate.
She was bullied and tormented by the other kids at the orphanage. Caregivers beat and yelled at her. She was blamed for trying to hurt or disable other kids with witchcraft. She was told she wasn't human.
"I was always isolated; I was always alone," she says. "When you're disabled in Africa, your life doesn't matter."  
As the long-running Liberian civil war raged, nurses and doctors from around the world came to care for the injured. The health workers also would visit the orphanage during stints in the country.
One nurse, Jenna Barnett, met young Yatta and wanted to adopt her and bring her to her home to Portland for better care.
"Our eyes locked," Jenna Barnett says about meeting Yatta. "It was like Spock on "Star Trek."  We communicated with our eyes.  I chose my words carefully.  I said, 'Your legs may have problems, but your mind is ok.' "
The war and the girl's delicate health made getting a visa to America impossible. She stayed at the orphanage seven more years.
Barnett was 14 in 2011 when she finally flew – by herself – to the United States and a new life. She didn't use a wheelchair or even a cane. She was scared that she would be bullied or mocked in a wheelchair. Instead, she walked with a brace on her leg.
To make matters harder, she knew little to no English; but she had Jenna and Mark Barnett.
Yatta describes the couple as  "the best people I've ever met in my life."
The bond between them is tight. She sews with her mom, and her father is writing a book and screenplay about her, "Odyssey of a Child Witch."
Not everything was simple once she was in the United States, however. At Shriners Hospital, she received her first wheelchair, but didn't want to sit in it, still haunted by past discrimination. It took convincing – her mom even paid her  to use the wheelchair. Soon enough, though, she got used to it.
Barnett has to use her wheelchair at schools, when she travels long distance, or when she needs to walk a lot. Otherwise, she'll use a cane at home or to to shop.
Besides health care, she had to catch up on years of education. In one year she learned everything to enter high school, including English. While home-schooled, she watched English videos and even the cartoon "Word Girl" on PBS.
She was ready to start her first school in America: Lincoln.
***
High school can intimidate any student. But for students from other countries, stepping into their first American public school can be like life on another planet. Her involved parents helped Barnett. They explained her condition to all her teachers.
She started high school very shy. Teacher Katie Grone helped Barnett open up in her English as a Second Language course. They instantly connected and have grown even closer over the past four years.
"I just remember the first day that she came here. She was really, really reserved and scared and that went away pretty quickly," Grone says. "She's a brilliant kid, quick learner."
The ESL room became her "safe zone" as she slowly came out of her shell. Now, she's a teaching assistant in ESL where Grone's students know her as "Miss Sassy-Pants."
"She's a perfectionist," says Grone. "She does not stop doing something until she has nailed it. Anything less than an A for her is not acceptable. She's diligent about whatever she's focused on."
Beyond her drive, she's a big volunteer and a natural leader, Grone says.
For students like freshman Loy Msafiri, she's also a strong role model.
"When I look at her, she always amazes me," says Msafiri, a native of Africa who came to the United States in 2012. "I really want to be like her. She's a hard worker and is really nice to everybody."
As a sophomore Barnett joined The International Youth Leadership Council, an organization that advocates and educates young international youths and students. She is a council coordinator and was also the MC at the group's conference  this year, in 2016. She is also part of Les Femmes, a group that teaches young women of color to be strong, brave leaders.
In Barnett, the members have a perfect role model.
Before the stretching and meditations of mindfulness class start, Barnett huddles in a small ball and naps under a blanket. A teacher nudges her awake. She sighs with big yawn and once she gets started, she's on a roll. She can do things others can do, but in her own way.
"Now got into downward dog," says Erin Burke, Lincoln's yoga teacher. As everyone is stretching to get their heels onto the floor, Barnett is on knees, reaching her hands to the floor, getting a deep stretch in her low back.
Her flexibility looks effortless. She relaxes her arms, pulls them behind her and clasp her hands at the center of her back. Her legs stretch across the blue yoga mats as she bends all the way down with no space in between her upper and lower body. All done without her wheelchair.
Through the rest of the day, Barnett must use a wheelchair in an old school building that doesn't make it easy.
"To be honest, I hate being in a wheelchair because there are so many things I want to do," she says. "I want to dance! I want feet like [other students]."
Typically, she leaves each class five minutes early, treks all the way to the one elevator at the end of the school, and then pushes along to her next class. She struggles with students blocking her path, heavy doors and few wheelchair ramps.
"I would really, really like Lincoln to be accessible for wheelchairs. It's awful," she says. "They should really try to make it more accessible for disabled people."
That won't happen until the new Lincoln is built, set to be in 2020. According to Abby Dacey, an architect working on the master plan of Lincoln, they haven't started planning all the small details that will help Lincoln become accessible. They will follow the American with Disability Act requirements.
By then though, Barnett is planning to be studying pharmaceutical research and chemistry at Portland State University. She then plans to go to OHSU to finish up her studying and education in the field.
Feeling independent, Barnett is ready to step into the real world.
"I'd rather be independent, because people won't be there to help me, I have to accept it because it is what it is."
Leave a Comment