Hydro flasks: The raging recepticle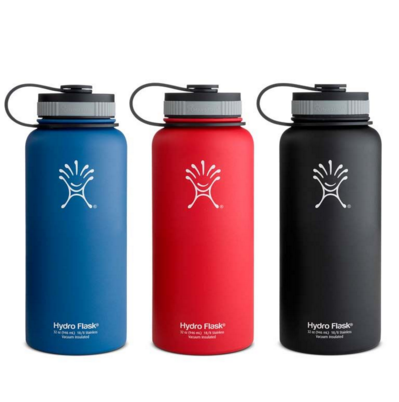 Lincoln has entered the era of the hydro flask. For those who have been living under a rock, hydro flasks are high-quality insulated water bottles designed to keep liquids extremely hot or cold for extended periods of time.
The flasks have appeared all over Lincoln, clad in stickers and the many different mouthpieces available. The bottles come in a variety of colors, ranging in size from 12 to 64 ounces. At $22 to $55, the hydro flask is a luxury item.
"I've had my hydro flask for two years before everyone else had one," said junior Bazil Sterling. "I just love them because I can put ice in my water bottle at the beginning of the day and it will still be cold all the way through the end of the day. It is kind of annoying that everyone has one."
Many claim that the hydro flask has become a part of the so called "Lincoln uniform" as one of the most common accessories seen in the halls.  While many students have submitted to the trend, others believe the hydro flask is a silly fad, a fashion statement rather than a water bottle.
"I will just stick to my Nalgene," said junior Josie Savaria Watson.
The fad does however have a downside. Because of their steep price and trendy nature, hydro flasks are frequently stolen from stores and from other students and sold.
"I only had my bottle for about a week before it was stolen out of the weight room," said junior Eddie Rosen.
With the risk of their bottles being stolen, students have become increasingly protective of them. That risk has also convinced many students pass on buying hydro flasks, afraid to pay $30 for a water bottle that is likely to be stolen.
Whether or not you use the bottles, there is no denying that the hydro flask is one of the biggest trends of the 2015-'16 school year.
Leave a Comment