Leitgeb hits base-clearing home run to give the Cardinals a 5-1 victory against Grant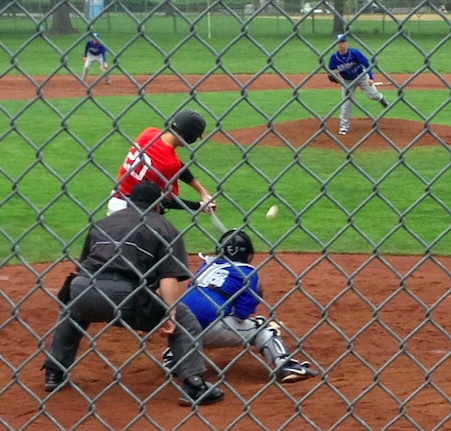 Update: Lincoln beat Grant 8-5 on April 23, making its record 9-0. The Cardinals next opponent will be Roosevelt on April 27.
Though you wouldn't know it until the last five minutes, the crosstown clash was one of the best games the Cardinals have played. On April 21, varsity baseball played the Grant Generals at Sckavone in the annual crosstown class. Though the game was initially slow— 1-0 Grant until the 4th inning, and tied 1-1 till the 7th—it picked up.
 The game ended 5-1 in the bottom of the 7th inning with a walk off grand slam, after Grant's coach decided to allow Lincoln to fill the bases with intentional walks in an ill-fated attempt to empty the team of its best batters. Unfortunately, sophomore infielder Brandon Leitgeb, is one of Lincoln's better batters and won the game by hitting the ball out of the park.
 "It was an incredible ending," said senior infielder Dominic Risch. "It's really why I play baseball."
 The rest of Lincoln agreed, along with many of the spectators. "It was fantastic. Surreal," said senior pitcher Ronnie Graham, who started playing this year and pitched all of the game's seven innings.
 "We prepare by demanding excellence at practice; our guys come to practice ready to work," head baseball coach C.J. Watson said. "We have high energy practices that put the guys in pressure situations."
 For some players, the change in coaching this year was all they needed to improve. "I think the change in coaching was exactly what we needed this year," senior varsity player Dante Piacente said. "He's really intense which scared me at first, but since I got to know him more and listen to him coach has been really great."
In the end, though, it came down the Generals' decisions. "It was a horrible coaching decision, and we made them pay for it," Risch said. Thus, the Cardinals' 8-0 undefeated streak within the PIL continues. "Lincoln hasn't ever won 20 games in baseball so if we can keep winning it will be really special" Piacente said.