Staff Profile: Dawn Gordon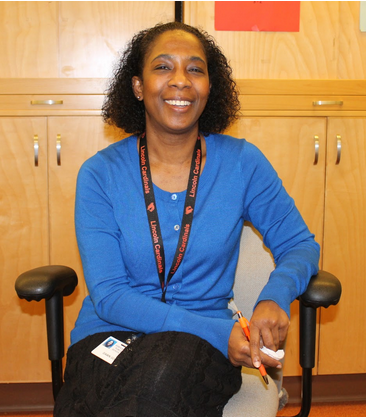 This week's staff profile introduces Dawn Gordon, the new supervisor of study hall. Gordon was born and raised in Belize. She lived in Hawaii for 22 years and attended University of Hawaii, earning her undergraduate degree in European history. She also attended both Portland State University and American Public University, graduating with a master's degree in ancient and classical music.
Q: What clubs, sports, or organizations were you involved in during high school?
A: I played soccer and tennis. I was also involved in a tutoring program that helped get elementary school kids excited about school. I also worked with a group that helped needy families.
Q: What career did you want when you were in high school?
A: I wanted to be an accomplished pianist that did concert performances.
Q: What was your favorite part about high school?
A: Sports; I loved sports. I was really good at it. I also really loved astronomy.
Q: What did you dislike most about high school?
A: I didn't like the schedule. It was a very long schedule. I didn't like the uniforms, either.
Q: Who were your role models growing up?
A: I had a teacher named Ms. Ramos. I stayed in touch with her until five years ago (and then) I lost contact with her. She really cared for her students. She became a lifetime mentor.
Q: Before becoming a staff member, what were your previous jobs?
A: I worked as an administrative coordinator. I worked at a school in Hawaii for nine years.
Q: Why did you choose to become a staff member?
A: I wanted to be a part of education. I like Lincoln High School; I think it's a fabulous high school.
Leave a Comment