No snow means 'no go' for ski, board teams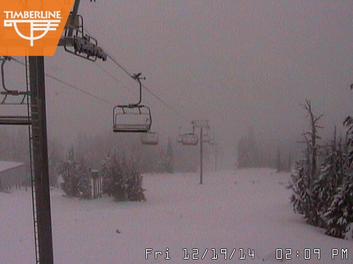 UPDATE: Mt. Hood Meadows opened on Dec. 22, the latest recorded opening since 1981.
After the longest snow drought at Mt. Hood in 30 years, the snowboard and ski teams have cancelled their first and second practices at Mt. Hood Meadows.
 The practices were planned for Dec. 12 and 17, but the resort has not seen a significant gain in snow since Nov. 23. Each ski resort on Mt. Hood has received little to no snow thus far, and their base depths have depleted due to warm temperatures. Other than Mt. Bachelor, no ski resorts in Oregon have more than 11' inches of a base depth. Last year, the snowboard team was faced with several cancellations due to poor mountain conditions, which included two practices and two slopestyle competitions.
 Team director Mona Hart was reluctant to withdraw the practices from the team's schedule, but only eight inches of snow was not enough for Meadows to open the resort. "It is never easy to make these decisions, and we wanted to give everyone early notice," Hart said. "I was a bit frustrated to hear the news, but unfortunately nature has played a bad card on us this year."
 Hart has made an effort to increase the number of practices this year. After Raz Transportation lost its business, it left several academic sports teams stranded including Lincoln. In fact, the team has transportation only to practices, not competitions, since it is a club sport. All of the team's funding comes from a hefty $800 fee to join. Hart even asked for the help of the football program for the pumpkin patch fundraiser held on Oct. 26, which raised $400. Since the team has already booked a certain number of trips to the mountain, Hart moved the practices to currently undecided dates in March.
 However, Hart and team co-director Laura "Jules" Angyus decided to sources team transportation from First Student, the leading school bus company in the country but a less luxurious route to the mountain as well. "We understood that our snowboarders wanted to snowboard more than a deluxe ride up to the mountain," Angyus said. "This year, we may not be riding up as comfortably, but definitely more frequently."
 Jesse Nicola, a Lincoln alum who has been coaching its snowboard team for nearly six years, is upset about the current conditions but is hopeful and confident that the weather will pick up. "Unfortunately this does make things difficult in the immediate future for OISA," he said. "I've always thought the amount of practice for OISA wasn't adequate, and so this makes things even more difficult. While physical conditioning will help, nothing replaces time on hill actually practicing, and there's just no way around that. Ultimately though, it should be okay. The snow always comes, contests get moved around, and we make the most of what we have. The team members have a great time both increasing their experience as riders and developing a lifelong physical activity that will follow them for decades to come."
 Hart and Angyus have maximized the team's number of practices from eight to 13 because First Student is a much less expensive alternative to the mode of transportation ski team uses.
 Skiers will be using NW Navigator Luxury coaches for transportation but are still upset about recent mountain conditions. The first two practices were planned to be held on the same days as the snowboard team's, but they will moved after the season. Junior and ski team veteran Matthew Reynolds said he was disappointed that the amount of snowfall was not as plentiful as it was last year. "We'll be going into our first races with less preparation, but I'm mainly disappointed because we can't go up and ski," Reynolds said. "I know that several other people who plan on going down to Mt. Bachelor to practice there. At this point, that's our only option for practicing."
 The weather at Mt. Hood Meadows didn't have less frequency but rather violent conditions in 2013. There were temperatures as high as 40 degrees on Mt. Hood, which delayed opening day from the predicted date of Nov. 15 by four days. Even after the opening date, poor weather on certain occasions at Meadows caused it to close the entire resort. Snowboard team had two cancelled competitions in January 2014 due to violently high gusts of wind and unexpectedly heavy snowfall of nearly nine inches both days. The ski team was able to compete, but the rough conditions made it too difficult for Meadows employees to set up the rails and jumps for the slopestyle course. "We hope that the conditions will improve before our season officially starts," head coach Robin Chapin said. "This isn't exactly something we can control, but this just means we'll need to work harder during dryland practice."
Leave a Comment
Donate to The Cardinal Times
Your donation will support the student journalists of Lincoln High School - OR. Your contribution will allow us to purchase equipment and cover our annual printing and website hosting costs.