Students seek additional study space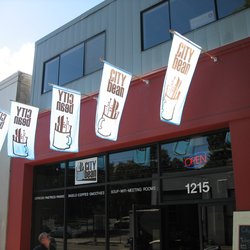 The Cardinal Nest is a proposition that could turn a vacant warehouse into a brand new designated area for students.
Parent Teacher Student Organization volunteer Abby Schwartz and a group of five other parents are working to add an additional designated area for students because Lincoln is at 160 percent capacity.
The Cardinal Nest would occupy a warehouse on Southwest 16th Street behind the bleachers. Schwartz saw the vacant building, put up for lease in 2011, as an opportunity to expand the campus in response to overcrowding issues.
Formerly Cafe Mingo, the facility would be used as a supervised study area able to hold up to 300 students for those who have free periods. The proposed extension would also allow for more lunch-time eating options, with food carts and other vendors invited to park around the campus.
"We are seriously lacking in physical space at Lincoln," Peyton Chapman, principal, said. "If the parents are able to secure a lease, we will most likely be able to start using the space by January." The PTSO has been talking to lawyers and realtors in order to secure the lease.
Schwartz said that the space will not have all of its cosmetics applied by January, but seismic changes could be completed around August 2015. As for funding, donors and organizations such as the Multnomah Athletic Club and Nike will help fund the project.
Schwartz's proposal has four main focuses: food, study, activities, and social vision. Due to library overcrowding, the Cardinal Nest would also function as a small study area with an art showcase.
"We are humbled by the community support and expertise that has been forthcoming as we tackle the prospect of making a concept into a reality," Schwartz said. "We've recognized the need for such a space and are ready to follow through."
Leave a Comment
Donate to The Cardinal Times
Your donation will support the student journalists of Lincoln High School - OR. Your contribution will allow us to purchase equipment and cover our annual printing and website hosting costs.