Netflix Pick of the Week: 'Freaks and Geeks'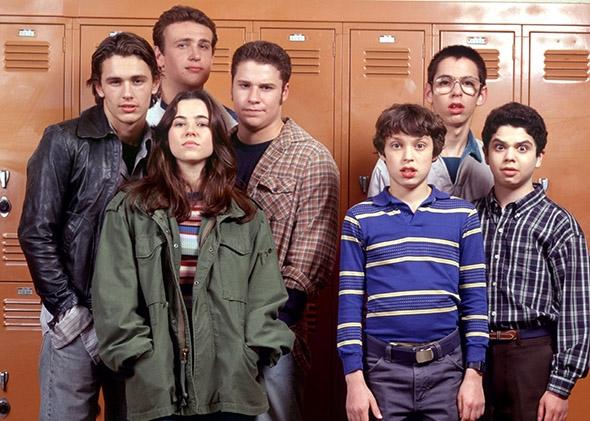 "Freaks and Geeks" is a rare thing, a story about high school with its heart firmly located under the bleachers and in the library, featuring the burnouts and nerds who might have, in the past, been caricaturized. Directed by Judd Apatow in 1999, the short-lived show launched the careers such stars as James Franco and Jason Schwartzman, leaving an impression on viewers that has lasted for almost 20 years. The series iss funny, poignant, and never gives off the vibe of an after-school-special, but instead, tells relatable stories set against the backdrop of the late '70s.
The heroine Lindsay Weir, an honor roll student and straight edge, spontaneously decides to trade in her cardigan for a vintage army jacket and hang out with the stoners under the bleachers. It's never revealed exactly why Lindsay is, in her brother Sam's words, "throwing her life away," but Lindsay's struggle between her freak side and her geek side is the undercurrent of the show, even while she's dealing with needy boys in bands, disco, and babysitting while inebriated.
"Freaks and Geeks" feels familiar to high school students, with its depiction of over-eager teachers, embarrassing middle school friends, and the idle hours of life spent eating grilled cheeses and smashing mailboxes. Lindsay's peers originally all seem to fit in clear-cut high school stereotypes, but by the end, they're all given funny, realistic, and engaging storylines. Characters such as Lindsay's bully Kim Kelly and Sam's nerdy friend Bill Haverchuck get sentimental backstories that move them from comic relief to fan favorite.
While it only aired for one season, the series, since its cancellation, has gained a loyal following of high school students and beyond. Teens from 1999 forward have related to Lindsay and her crew's arduous journey to establish themselves as individuals in a world where everyone is labeled either 'freak' or 'geek," and Lindsay Weir is the perfect role model to break that mold.
Leave a Comment