Sophomore Going to World Competition for Irish Dance
Update: Carlson-Riddle placed 37th in the competition.
On April 12, sophomore Cameron Carlson-Riddle will board a plane headed for London, England, for the world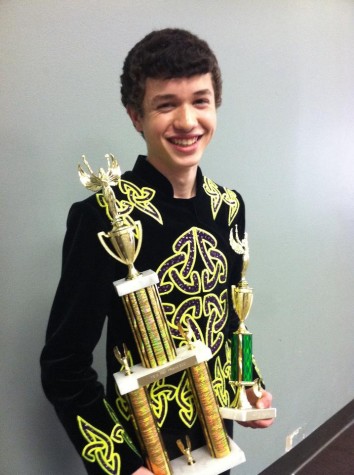 competition of Irish dance. The competition takes place from April 13 to April 20. "Worlds is just like the Olympics for Irish dancing," Carlson-Riddle said.
Starting when he was 5, Carlson-Riddle has been dancing ever since. He first got his start when his dad showed him a video
of a  River Dance, and he couldn't stop watching it. "I started to do what the dancers on the TV were doing," he said. His mom then took him to a class at his sister's dance studio.
Carlson-Riddle has been to Worlds once before. He went in 2013 when it was held in Boston. "I am currently 42nd in the world," Carlson-Riddle said. According to him, there will be 4,000 to 6,000 competitors at the competition. Two other dancers from his dance school are going with him. "I practice a lot every day," Carlson-Riddle said. "Everything I do revolves around my dancing."
Leave a Comment