Student Wins Speed Golf Amateur World Championship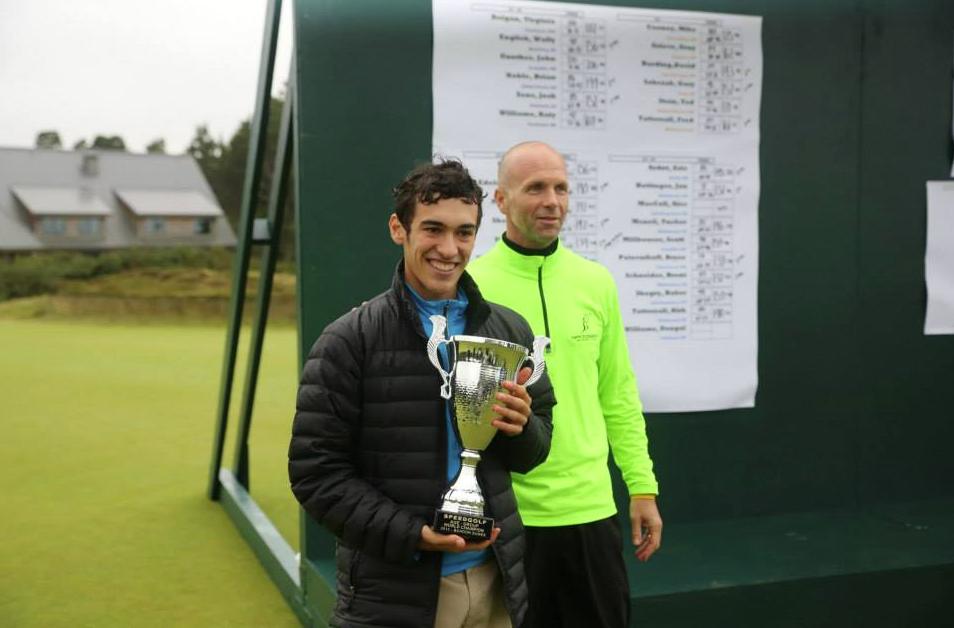 "
"Now all that's left for me to do is to get better. You can never be perfect at golf."
— Ben Stickney, sophomore
     Sophomore Ben Stickney has won the Speed Golf Amateur World Championship at Bandon Dunes Golf Resort. Ben is an avid golfer and runner and his work towards improving his golf game has paid off. On Oct. 27, Stickney claimed his title by scoring the lowest out of all five of his opponents in the "24 and under" category of the tournament. He finished his round with 81 strokes in under 54 minutes.
    Speed golf is an anaerobic combination of running and golf. The sport challenges participants to score the lowest round of golf in the lowest amount of time. In regular golf, a golfer has a limit of 14 clubs. In speed golf, each player is allowed seven. Once a golfer hits the ball, the player picks up the golf bag and runs for the ball to take the next shot in the shortest amount of time. Some golfers will limit the amount of clubs that they bring so that they can finish their round quicker. In the 2012 championships, one golfer attempted to finish the round as quickly as he could, but with one club only.
    Stickney was first introduced to golf by his father, Scott Stickney, who brought Ben to Pumpkin Ridge Golf Club in North Plains. It was here where Stickney was introduced to golf instructor Christopher Smith. He was, at the time, a speed golfer. Later in 2005, Smith set the speed golf world record by taking 65 strokes on a par 72 course in under 45 minutes. "Christopher was really helpful, especially in developing my swing," Stickney said. "He introduced me to speed golf when I turned 10. It's a good way to get more fitness out of a sport that mostly involves you being stationary."
    When Stickney started attending Lincoln in 2011, he joined the golf team in early spring. In 2013, he competed in 30 golf tournaments, not including speed golf, and won in six of them. "Golf is a lot easier than speed golf mainly because you can actually focus on your shot," he said. "It's more fulfilling to score low in a speed golf round rather than in a round or regular golf. Winning the championship was one of the greatest accomplishments in my life so far." His father also takes part in speed golf. "My dad was also one of the inspirations for me to get into speed golf," he said. "Now all that's left for me to do is to get better. You can never be perfect at golf."
Leave a Comment
Donate to The Cardinal Times
Your donation will support the student journalists of Lincoln High School - OR. Your contribution will allow us to purchase equipment and cover our annual printing and website hosting costs.