How it Ended: A Frustrating Conclusion to an Exciting Season
The normal cheers and chants heard echoing outside the Cardinal Coliseum grew silent on March 5, as the last seconds on the scoreboard ticked off the clock. The realization set in as the lead grew and the seconds depleted, that the Cardinals short run in the playoffs was over.
Despite Tim Graham's 15 points, Jonah Pemberton's 10, and Tearale Dempsey's eight, the Cards had no answer for Lake Oswego's Guard, Jazz Johnson, junior, who put up 31 points.
Rewind to the beginning of the season, when the boy's went on a 6-0 run, beating teams such as South Eugene and Westview. Fast forward, and the Cards beat Sheldon and Wilson, both by only one point. It was no doubt that the Cards proved they were able to win close games and beat good teams, but with a combined 11 losses in the regular season, it became apparent that like every other team, we were susceptible to losing games.
The Lakers only had 29 points, if you discount Johnson's 31, and at any moment in the game when Johnson was taken out, their scoring slowed down dramatically. If you take away Lincoln's top scorer, Graham, the Cards would still end up with 37 points overall. Point being, Johnson was the life and soul of this Lakers team, the true star, and if he would have been contained more effectively, the game could of ended a lot differently.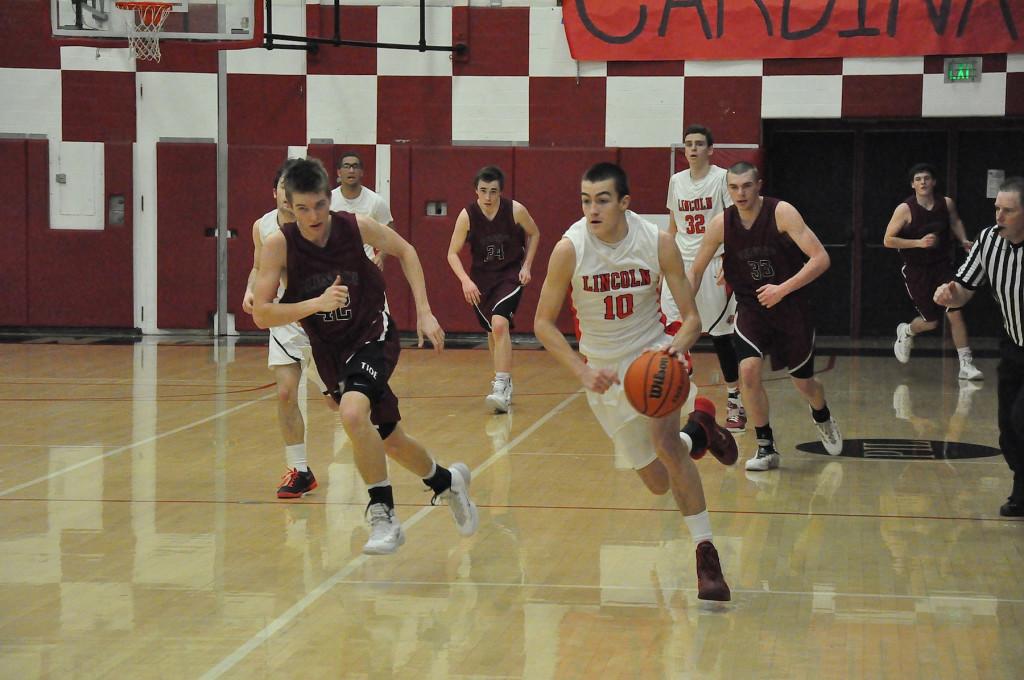 In addition, the Cards proved, as they did all season, that they have multiple shooters and plenty capable of making plays, but where they fell short was in stopping the one player they had to stop. If their defense was more solid, meaning better interior defense and more pressure on shooters, they may have been able to pull off another thrilling win like they did against Wilson or Southridge. 

Although its saddening to watch senior players move on, there is a lot to look forward to. That includes watching the two freshman varsity players, Nolan Bertain and Jonah Pemberton, as they blossom into more refined shooters and ball handlers. The players on junior varsity are now in the position to grow and replace their predecessors. A few names to look out for next year are Griffin Kent, David Shershow, Grant Director, Max Rumaner, and Thomas Rudinsky.
There is more to come from this program, and with Pemberton and Bertain on the roster, Lincoln could, in the next four years, have a shot at a playoff run that lasts longer than the first round.