Seven Periods Cause Stress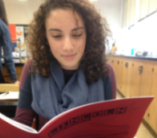 Amid the stressful time of forecasting, Principal Peyton Chapman has proposed having seven periods instead of eight for the next school year. Under the new contract between the Portland Public Schools teachers and the District leaders, certain high schools can revert back to the seven period schedule from 2011. This new deal promises to hire 150 teachers, in order to increase student class time. This also ensures that the district is in compliance with the state law requiring 130 hours of class time for credits.
This change would be a detrimental one, because students wouldn't be able to takeall the classes they desire, including having free periods.
Students in the International Baccalaureate program have to encounter this dilemma head-on. IB students are required IB Social Studies, English, Language, Math, Science, TOK and Performance. With the proposed 7-period schedule, people
doing the IB diploma wouldn't be able to have free periods, or the opportunity to take multiple electives. If I do full IB classes then I wouldn't be able to take journalism.
Leave a Comment