Movie Review: "The Irishman"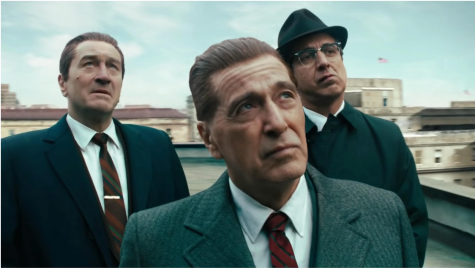 In 2019 Martin Scorsese has done it again, producing yet another thrilling crime film following classics like "Raging Bull" and "Goodfellas." "The Irishman" grabs your attention in the first ten minutes and never lets you go for its three-and-a-half-hour runtime. Robert De Niro, Al Pacino, Joe Pesci and Bobby Cannavale star in the movie adaptation of Charles Brandt's book "I Heard You Paint Houses." The movie takes us through a first-person retelling of Frank Sheeran's life; he's an Irishman who finds himself climbing the ranks of the Bufalino crime family in the 1950s and ends up working for Teamster leader Jimmy Hoffa. 
The brilliance of "The Irishman"  is in large part due to its acting. Robert De Niro is spectacular in the main role of Sheeran, getting you to pull for him in the film right away. Seeing the transformation of Sheeran throughout his life from a young truck driver to an experienced and wise hitman is gripping.
Pesci and Pacino are perfect in their respective roles as Russell Bufalino and Jimmy Hoffa. Pacino was especially magnificent. From his first words to Sheeran, "I heard you paint houses," Pacino immerses you into the perspective of Hoffa. Both of their accents and dialogue were the most impressive parts of the performance.
Perhaps the most interesting role in the film was Sheeran's eldest daughter, Peggy, brilliantly played by Lucy Gallina as a child, and Anna Paquin as an adult. Peggy has her suspicions of Sheeran's wrongdoings throughout the movie and the dynamic between them as she slowly discovers the truth about her dad's work is fascinating. Peggy's relationship with Hoffa is even more interesting, as she always saw him as a great person, although behind the scenes he was the one pulling the strings for an exponential amount of illegal activity.
The camera work and cinematography in "The Irishman" is nothing short of masterful. The endless amount of captivating shots and perspective-adding angles only adds to the brilliance of the film. There are no better examples than the numerous shots inside the Bufalino bar. Scorsese masters the connection of storyline and camera work, something I thought was an improvement from other Scorsese crime films like "Mean Streets" and "Raging Bull."  
"The Irishman" leaves you the way you feel after reading a classic book, wishing that it wasn't over. The final shot brought satisfying closure to the film. The viewer sees Sheeran through a slim door opening. It's quite an apt metaphor for the world and the life that was closing after a wonderful journey through a captivating Irishman caught up in the 1950s Mafia. 
Find some time, cozy up on your couch, and relive a piece of enthralling history in "The Irishman."
Leave a Comment