Climate walkout: environmental justice at Lincoln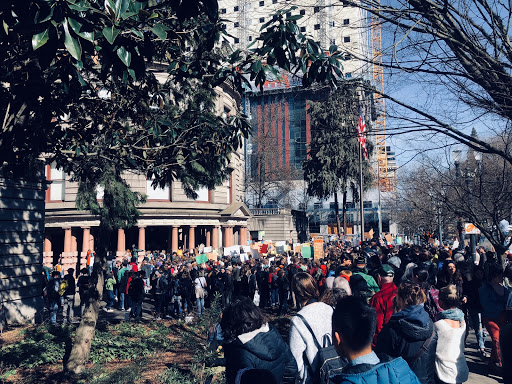 On March 15, 2018, Lincoln classrooms were barren and its hallways deserted. The sudden vacancy occurred due to hundreds of Lincoln students participating in a national climate walkout in favor of the Green New Deal, a congressional resolution addressing climate change.
Eighteen months later, Lincoln's environmental justice club, including its President Sriya Chinnam, and various other volunteers and club members, are in the process of planning a second protest to continue the fight for worldwide environmental justice. 
The environmental justice club is participating in a global climate strike on Sept. 20th. The goal of the strike is not only to raise awareness on global climate change but to stand with Greta Thunberg, a 16-year-old Swedish student and climate activist.
In 2018, Thunberg began protesting for climate change awareness outside of the Swedish Parliament and her efforts quickly caught the world's attention. Now students everywhere, including Lincoln, are rallying behind her to participate in the Sept. 20 climate strike   
Though they may appear effortless, massive protests don't just come together on their own. 
"The global climate strikes have taken at the very least one month of planning," Chinnam says, "which usually looks like a lot of people coming together and meeting weekly discussing details about where the strike should take place, what time and other details."
Hundreds of Lincoln students were involved in the previous walkout, and the environmental justice club is predicting a large turnout for the upcoming strike. Many Lincoln students feel passionate about climate justice and want to see a change. 
"Knowledge is a privilege and with privilege comes responsibility. Momentum for ecological issues has grown globally in the past few years, which I think has inspired many at Lincoln… to take action" says Chinnam.
Some Lincoln students choose not to participate in these walkouts and strikes.
Junior Katlyn Kenney did not go on the walkout last spring and is critical of Lincoln's activist culture. 
"Many people who went on the walkout did not care about climate change," Kenney states. "They were just looking for an easy excuse to leave class. They don't actually make choices in their daily lives to help the environment."
Kenney also says she didn't walk out so she could still participate in athletics after school. PPS rules state that students cannot participate in extracurriculars if they have unexcused absences or miss more than two full class periods. 
If past experiences indicate anything, this climate strike could possibly be a massive event. 
"Overall, we just want this event to be huge and get a lot of media attention," Chinnam says. "We want adults and teachers to join us in the fight for a just climate. We want to see everyone represented and we want this to be a day in history."
Leave a Comment