Student finds success through GSA and Makeup tutorials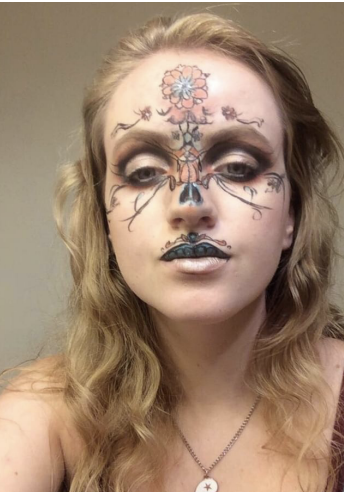 Identity, inspiration and hard work have motivated Sienna Painter since she was a child. Now a senior at Lincoln, Painter has pursued her interest in makeup that she has had since elementary school.
Painter has decorated her face with many creative makeup looks. From bright green and glittery blue eyeshadow to a full face of skeleton face paint, Painter knows how to do it all.
"I remember I first got my own cheap Claire's eyeshadow palette in fifth grade," said Painter. "I saw makeup looks in pictures… and tried to recreate them."
Since then, the rise of social media has only driven Painter's passion for makeup.
"I started to watch makeup channels on youtube- namely, Mykie from GlamandGore. In eighth grade is when I really started to do creative and bigger makeup looks," she said.
At Lincoln, Painter's presence is more than just her makeup looks. Painter has been involved with Lincoln's Gender-Sexual Alliance (GSA) since freshman year. Now in her senior year, Painter serves as a leader of the club.
GSA has worked on many projects since they received a grant, with the help of French teacher Doug Siegel, from Oregon Safe Schools & Communities Coalition in the spring of 2019.
"We are getting supplies for our club and creating a flag for our GSA and with the leftover money, we are planning to buy children's' books featuring LGBTQ+ themes and donate them to elementary schools," said Painter.
For Painter, senior year has been exciting but also tiring.
"I am definitely feeling senioritis making me less motivated in some things. But I do think that Lincoln and high school is a fun place that has taught me and challenged me so much and has shaped who I am," she said. "I am excited to move on to college, but I am sad to leave some aspects of Lincoln."
While she will miss Lincoln, college holds promises of additional leadership and freedom for Painter to engage in her interests. She has received a diversity scholarship to Western Oregon University due to her work in GSA and is excited to continue to be involved in GSA in college.
As for makeup, "I also am potentially thinking of doing makeup for people on the side to gain extra money. But I will always do my own makeup as a way to relax and express myself," said Painter.
Leave a Comment