The Lincoln legacy
LHS alumni reflect on their time at Lincoln.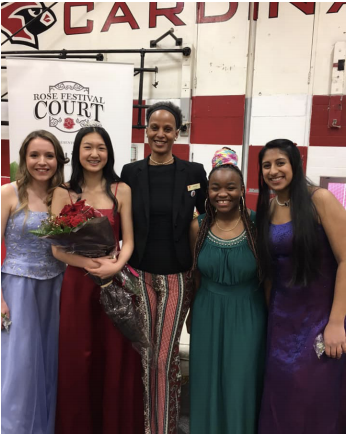 Therese Bottomly '97 – Current Editor-in-Chief of the Oregonian
How has Lincoln influenced your career?
The college and career focus at Lincoln helped me set high goals for myself.
Did you enjoy your time at Lincoln?
I enjoyed my classes and friends, especially my soccer teammates. Playing varsity soccer and going to city and state are terrific memories. We did not win the state championship but playing in what was then Civic Stadium was great fun.
What were a few challenges you faced at Lincoln?
My dad died unexpectedly the fall of my junior year. My team and friends really helped me through that first tough year.
How has Lincoln affected the way you see and interact with the community?
I saw so many really engaged Lincoln parents who were running businesses or otherwise very involved in the community. I am still amazed at how many high school classmates I run into around town who are making a difference in this city.
Bill Hawkins '54 – Lifetime award winning Architect
How has Lincoln influenced your career?
I wanted to be an architect since I was in Kindergarten, which meant lots of STEM classes at Lincoln. Looking back meeting the enormous amount of people at the school helped me with connections in the future.
Did you enjoy your time at Lincoln?
We had a lot of freedom. I ran for office, not that I won. I liked all my teachers they were very good. Also, everybody was smoking, just cigarettes. Me and my buddies were about the only kids who didn't smoke and one weekend three of us went on a camping trip and each brought a pack. Well of course we got caught and my buddies father had been in the war, and he said "you don't waste stuff in the war," and made us smoke all three packs on the spot. We felt sick.
What were a few challenges you faced at Lincoln?
We had the atomic rage and dove under desks during drills because we didn't know if the bombs were going to drop or not. Everything was smooth on the academic side.
David Bangsberg:
Lincoln alum, David Bangsberg, currently serves as the Founding Dean of the joint Oregon Health & Science University –Portland State University School of Public Health. According to OHSU, after graduating from Lincoln High School, Bangsberg spent his college years at the University of Rochester, earning a Bachelor of Science in Biology. Bansberg then proceeded to earn a masters degree in Philosophy of Science from King's College London, an MD from Johns Hopkins University and a Master's Degree in Public Health from the University of California, Berkely. According to OregonLive, Bansgerg is well know for his work on addressing the socio-economic barriers to providing care for HIV and AIDS in sub-Saharan Africa. Bangsberg now leads the new joint school of public health that offers doctorate degrees in community health and epidemiology as well as master's programs in a variety of fields, according to OregonLive.
Mel Blane:
Mel Blanc was born in 1908 in San Francisco, California, before later moving to Portland. At the age of 10, he had already developed an affinity for making funny voices and impressions. Almost immediately after graduating from Lincoln in 1927, Blanc starred as a voice actor for the KGW radio program "The Hoot Owls." in the thirties, we continued his voice work on various radio programs. In 1936. He was hired by Warner Bros, then called Leon Schlesinger Productions, to provide voices for their animated characters. He went on to voice almost all the Looney Tunes characters, including Bugs Bunny, Daffy Duck, Yosemite Sam, Wile E. Coyote, and the Roadrunner. He died in 1989 after developing coronary artery disease from smoking.
Cynthia Lee '79:
Lincoln alum Cynthia Le was recently hired as Portland Public Schools' Chief Financial Officer. Le graduated from Portland State University with a Bachelor of Science in Business Administration, with a minor in Accounting. According to PPS, Le served as the director of finance of Reynolds School District since 2010. While working for Reynolds School District, Le oversaw the building of three new schools and campus upgrades under a 2015 Bond. Prior to her work at Reynolds School District, according to the Portland Tribune, Le served for the Multnomah Education Service District and Riverdale School District.
Robin Marks:
Robin Marks was far more than Portland's first African-American Rose Festival Queen. With the help of the Rose Festival Foundation, Marks was able to coordinate court travel and appearances while remaining committed as a leader for Lincoln's track team. She went on to win the 200M dash at the Oregon state track championships, later winning first in the 400M hurdles in the NCAA in 1981, and placing second in the event in 1982. She qualified for the Olympic Trials for this event in 1984, 1988, and 1992. Marks was also a dedicated advocate during her years in college, organizing peaceful rallies for equal educational rights. Marks founded and operated the Robin Marks Track and Field Camp Classic from 1991-'95.
Leave a Comment