That's a wrap: fall sports overview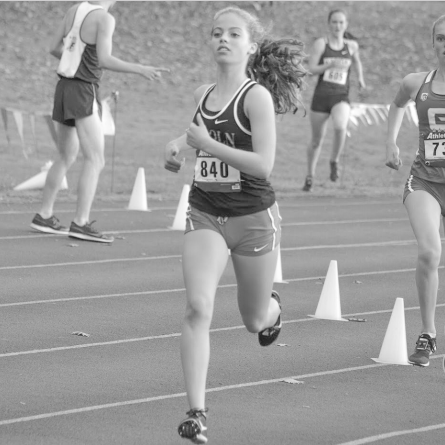 The changing of the leaves and the cooling temperatures represent the change from fall to winter.
Additionally, the changing of seasons marks the end of fall. Sports have finished and state champions are crowned.
The Lincoln girls' volleyball team had a memorable season, going undefeated in Portland Interscholastic League play. Lincoln won the PIL for the third consecutive year and secured the No. 9 seed in the 6A state playoffs. The Cards hosted their first playoff game against Sherwood, winning 3 sets to none. In the next round, they faced the number eighth seed, Sandy. Lincoln lost to Sandy 0-3, ending their season.
The girls' volleyball team will look to win a fourth consecutive PIL championship next year and advance further in the playoffs, but they will have to do it without four key players: seniors Grace Zilbert, Bella Klostermann, Avery Billo, and Carmen Vintro.
Vintro reflected on her four years playing for Lincoln "I love playing for my school and it is a really fun experience," she said. Vintro has been on varsity since her freshman year and has been a key asset to her team's success.
"We have lunch together and spend so much time together, and we build really good relationships," said Vintro.
Zilbert, a four-year varsity veteran and Lincoln's lead libero (defensive specialist) will play Division 1 volleyball next year at the University of Portland. Zilbert won PIL volleyball player of the year this year. Zilbert spoke on her experience as a Lincoln athlete. "I'm grateful I was able to build friendships with people I might not have known other was, and I'm grateful to represent Lincoln," she said. "Being a freshman on varsity was hard. You're new to the school and the girls on your team are so much older than you. There will be super frustrating times and there will be times you want to quit, but in the end, it is super rewarding and I felt so good finishing my senior year strong and building a bond with my teammates."
***
The girls' soccer team ended their season with a record of 8-5-2, winning the PIL conference. The girls secured the No. 18 seed in the playoffs, but fell to No. 15 seed St. Mary's in the first round 1-0. Senior Gwynn Llewellyn, a four-year varsity player has "loved the connections [she's] made with people on the team. All the traditions we have, starting in the summer with preseason, are so much fun," Llewellyn said.
Llewellyn quickly had to learn how to manage her schoolwork with soccer. "Freshman and sophomore year was challenging having to balance school and sports," she said. "Freshman year was really surprising to me. Soccer brought me into high school and is a part of my identity," she said.
Like the volleyball team, the girls' soccer team will look a lot different next year, after seven players graduate. Fellow senior, Lili "Barney" Barnatan, won PIL defensive player of the year.
"I have had so much fun playing Lincoln soccer. It is such a good activity to do right after school to relieve stress and have fun with your friends," said Barnatan. A captain this year, Barnatan has advice for future players.
"While still upholding a level of respect for your teammates, especially the upperclassmen, have fun and appreciate every moment you get with the team because it will be over before you know it she said.
***
The boy's soccer team reached the playoffs with a record 8-3-3. They secured the tenth seed in the state playoffs and hosted their first-round game against No. 23 seeded Clackamas. The Cards beat the Cavaliers 2-0 but fell to seventh-seeded South Eugene in the second round of playoffs 3-0. 12 out of the 29 varsity players this year were seniors. "The team is super fun, it's a good social aspect outside of school and you form a lot of good friendships that you can't really form anywhere else," said senior midfielder Ethan Nguyen on his four years playing for Lincoln.
***
The Lincoln cross country team's season ended with the boys placing tenth overall in the state and the girls' team placing third overall. Senior Kyla Becker placed third individually out of 155 runners in the 6A girls' race. As for guys, senior Jalen Javurek placed 24th overall. Senior Connor Campbell has been doing cross country since freshman year. "Cross country has taught me that in order to improve and achieve big things, you have to put in the time and the work and make sacrifices," Campbell said. "I've had the same coaches for all four years, so it's been great to work with them. My sophomore year we won PIL and placed seventh in state. Also, last year we didn't make it to state, so it was special to make it back to the state meet my senior year."
The girl's team, led by Becker, wrapped up their season at regionals in Boise, Idaho on Nov. 12. Seniors Kyla Becker, Kendall Accetta, Jane Andersen, and Bridget Price said their favorite memories of being on the team was the bond they formed with their teammates and coaches.
"The coaches have been really big mentors in my life and they've been great role models for me," Accetta said. "Our coaches always say, '30 seconds after it's over, you wish you could do it all again.' That quote is so true. I would advise freshman to not take anything for granted and really get the most out of your coaches and experience on the team."
Accetta and fellow senior Madison Fassiotto, who started running for Lincoln during their sophomore and junior years respectively, wish they had found cross country sooner. "I've made my closest friends through cross country," said Fassiotto.
Cross country may sound like a grueling sport to some but not to Becker.
"I've become stronger emotionally and physically and it has taught me a lot of perseverance," she said.
***
Under first-year head coach Jeremy Johnson, the Lincoln football team reached the playoffs this year as the No. 25 seed, only to lose to eighth-seeded Central Catholic in the first round, 28-42. The Cards finished the season with a record of 5-5 and tied for first place in the PIL. Two leaders of the team, senior quarterback Myles Parkel, and linebacker Garrett Van Doren have played for Lincoln since freshman year. "Nothing beats the adrenaline of playing on a Friday night in front of everyone," said Parkel.
Van Doren has loved being a part of Lincoln football, saying "The bonds that we formed with our teammates is special."
"As a freshman, you never think you'll get to the moment of being a senior and you constantly look up to the seniors. You have to be patient," Van Doren adds.
Lincoln football will have a different look next season after the team loses sixteen seniors.
As fall sports come to a close and seniors put on their Lincoln uniforms for the last time.
Leave a Comment