McGee continues to converse with more students after promotion to VP position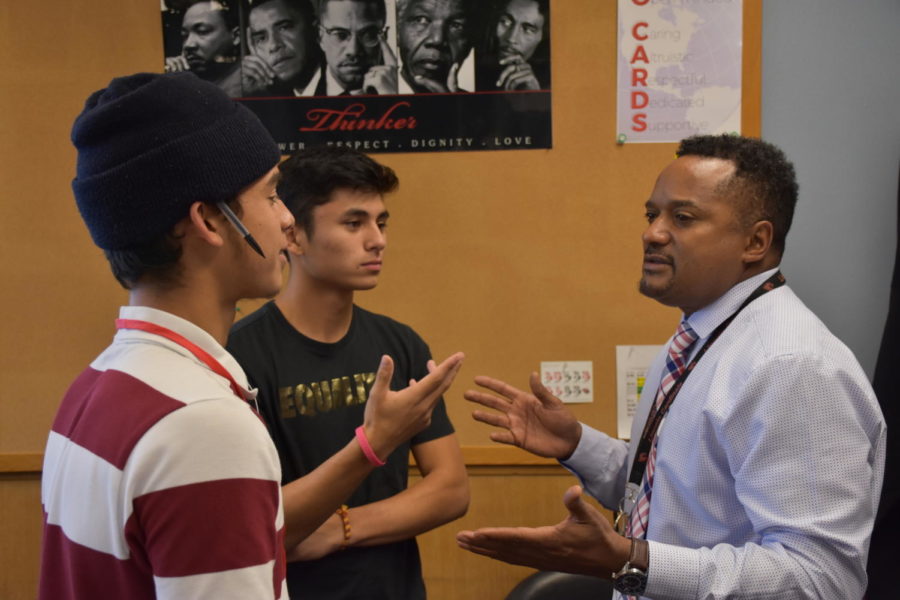 Walking through the halls at Lincoln High School it is hard to miss Mr. McGee as he is often speaking with a group of students. Despite the fact that he was recently promoted to vice principal, he is not disciplining the students, he is simply having a conversation, catching up on their lives.
McGee was a counselor at Lincoln for four years and has been working in schools for over 10. He did his counseling internship at Jefferson High School. Before he became a counselor, McGee worked with nonprofit organizations advocating for and supporting high school students. This job took him into schools 3-4 times a week.
"I just reached a certain point in my life, where I believe I can better support those students from within a system as opposed to outside of it," says McGee.
Lincoln High School is special in McGee's eyes because of an engaged student body. Students participate in sports, the arts program and are civically engaged. McGee says he loves "…the energy that they bring into this building each and every day."
McGee says he is proud of the relationships he has been able to build with students.
"You can take the man out of the counseling center," McGee says, "but you can't take the counselor out of the man." He has an open door policy that he has tried to continue into his new role. "I want students to know that I am a support system for them, no matter how small or big the challenge they are experiencing," he says.
During McGee's second year at Lincoln a group of boys started Brothers of Color. McGee says he enjoys working with the boys on a social and emotional level, as well as supporting their their advocacy work.
Sebastian Chevalier, the Co-President of Brothers of Colors, says that McGee "…gives us a perspective from being an African American adult that we don't always take in mind." McGee also helps lead the conversation during meetings.
The three vice principals this year are splitting up the curriculum and discipline. McGee oversees athletics and the AVID program. McGee's new office is in room 104, however he spends a large amount of his time in the halls talking to students.
"Equity, for everyone," is something McGee is passionate about. "But particularly those individuals that have been historically underrepresented."