Hard hits: sports-related concussions continue to impact Lincoln athletes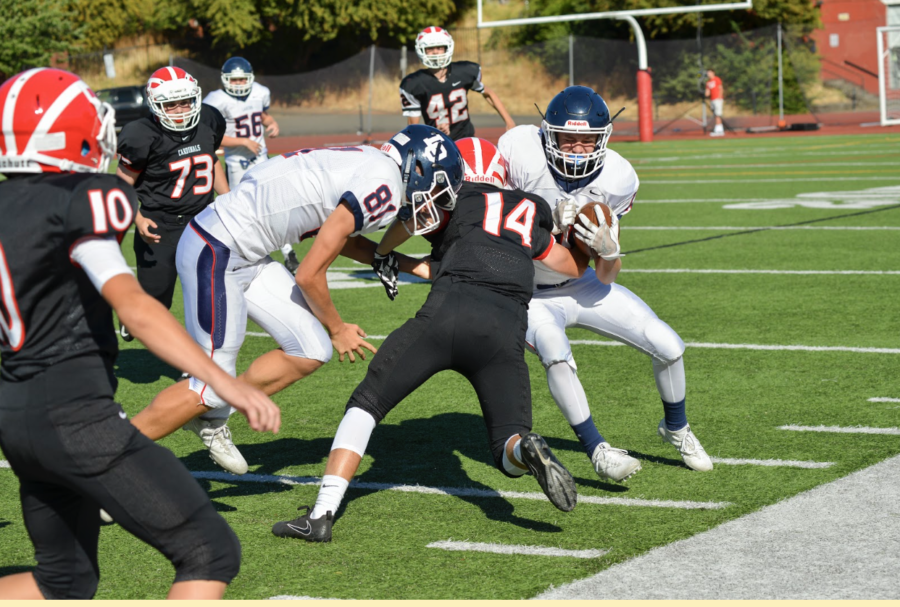 A routine tackle. A soccer ball to the head. A slip on the field – all causes of concussions for high school athletes.
Studies in recent years have put pressure on high school sports to be held accountable for the countless concussions sustained by athletes and have prompted students and parents to wonder how well athletes are protected from the risk of concussions and other brain injuries.
Most studies agree that over 300,000 athletic related concussions occur every year in high school sports in the United States. Oregon was one of the first states to mandate that concussed athletes are removed from play, and is one of 21 states that requires concussion training for coaches.
Only 109 out of 291 high schools in Oregon provide a full-time athletic trainer, a certified medical professional who can play a key role in identifying and initially screening for injuries, including concussions.
A concussion, also known as a mild traumatic brain injury (MTBI), is the result of a blow to the head, causing the brain to shake very rapidly. Nerve cells are stretched and the connections between them get pulled loose. When occurring frequently enough, concussions can have serious negative long-term health effects. According to the Concussion Legacy Foundation, one potential consequence of repeated concussions and brain injury is Chronic Traumatic Encephalopathy, a degenerative disease affecting brain function.
Because of equipment requirements and regulations, Lincoln football has advantages in tracking concussions. Every time a football player experiences a significant impact, a sensor chip inside the helmet alerts Lincoln's athletic trainer Jamie Jolliffe on a handheld monitor. This doesn't necessarily mean the player sustained a concussion, but it prompts the trainer to evaluate them.
"We don't cut corners on equipment," said athletic director Jessica Russell. "If there's something new available to prevent concussions, or to track how serious it is, we don't spare that expense. We definitely invest in the health and safety of our athletes."
Lincoln's head football coach, Jeremy Johnson, wants to change the perception around football and concussions.
"As far as the research and media that's out there, it's very biased against football," said Johnson. "I believe studies need to do a lot more data set analysis beyond just football to really understand what might be occurring in the brains of other athletes."
Another sport showing a high rate of concussions is girls' soccer. Junior Ella Birdsall received a concussion earlier this year during a varsity soccer game.
"In the last ten minutes, a girl shot the ball and it hit me in the head," said Birdsall. "Right after the game ended, my teammates came up to me and told me [they] were really scared because I looked so out of it. I knew I had a concussion."
This was Birdsall's second concussion since her freshman year.
"I wasn't able to go to school for almost two weeks," she said. "I was nauseous; I went to ten minutes of school and I was just sitting in the library and I threw up. I've been having a consistent headache for a month."
Birdsall didn't report the concussion until after the game.
"I kept playing because I didn't want to let my teammates down. I just didn't really want to come out," she said. "It's such a hard thing to miss out and not be able to play."
No matter people's opinions on concussions, Lincoln sports want to help athletes keep themselves safe.
"It is important that student-athletes take responsibility for taking care of their bodies at the advice of a lot of great people around them," said Johnson.