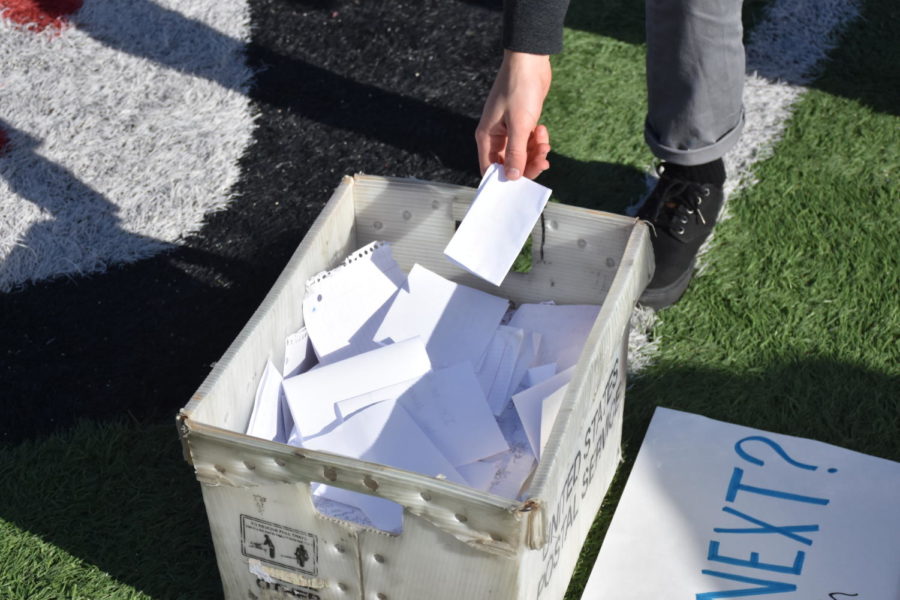 Students lead the national discussion on gun reform
March 26, 2018
Across the nation at 10 am on March 14th, America saw a new type of activism. America saw peaceful student activists lead demonstrations comprised of  all ages, genders, races and ethnicities, uniting for school safety.
Demonstrations ranged from walkouts to memorials. At Lincoln, student organizers opted for a tribute for the victims of Parkland at Marjory Stoneman Douglas High School who were massacred on Feb 14, 2018. The March 14 demonstrations were designed to show solidarity with the Parkland community.
Governor Kate Brown and Superintendent Guadalupe Guerrero attended the Roosevelt High School demonstration, and Portland Mayor Ted Wheeler made an unexpected appearance at the Lincoln tribute.
At Lincoln, students gathered on the field facing 17 desks laden with flowers. Each desk was labeled with name of a victim. Starting at 10 am, a moment of silence was held for 17 minutes, one minute for each person killed.
Many students were overcome with emotion, including Katie Swigart, a senior.
"I didn't expect to be emotional because I'm not an emotional person but then I saw those desks, the desks that I sit in, my friends sit in and my sister sits in," said Swigart.
At the end of the 17 minutes, students were encouraged to write letters to the community of Parkland as the song "Lean on Me" played over the loudspeakers.
"We are sending all the letters to Florida so Parkland knows that we support them," said Hanisi Accetta, the leadership teacher who helped organize the tribute.
"
Communication is key. "
— Faith Pauken
The March 14th memorial was organized by the Never Again Club, a club that wants to raise  awareness about school shooting and gun control reform.The club acts as an umbrella for student activism for gun control at Lincoln.
The club's structure is separated into different categories: legislative action and student and media outreach. Faith Pauken heads the club as president. At the end of the protest, Pauken had one impression of the demonstration: "wow."
"I didn't expect any of this! I didn't expect it to go so well! I didn't expect everyone to be silent. I didn't expect it to be sunny outside," said Pauken. "This was a huge encouragement."
When asked about the students who chose not to demonstrate, Pauken said that she "completely respects their opinion" and that she "wants to be welcoming as possible for all students."
Although many demonstrations have already taken place, many are yet to come. On April 20th, student activists across the country will protest on the 19th anniversary of the Columbine school shooting, a shooting that rocked America.
Gabby Cosey, a student leader in the Never Again club, is helping to organize busing to Salem for a town hall with politicians on the 20th through the help of organizations the Bus Project and Mom's Demand Action for Gun Sense in America.
"We want to bus everyone who wants to go to Salem," said Cosey.
If students want to get involved in the town hall, Cosey said to "talk to myself, Madeline [Gochee] or Carmen [Vintro] because we are organizing workshops for the town hall in Salem where students can learn about evidence, facts, and messages."
If students wish to stay in Portland, Cosey said that there will be a few student leaders, including Pauken, who will lead a walkout.
So far, over 1600 walkouts have been registered through the National School Walkout Campaign.
On March 15th, Portland Public Schools released an online statement in support of the movement.
"We are proud of our students. Please know we stand with you. Your voice is powerful, and you are right to expect action if we are ever going to guarantee safe and supportive schools," said the statement.
For students who do choose to demonstrate outside the classroom on April 20th, Pauken has one word of advice: communication. "Talk to your teachers and explain what this issue means to you," said Pauken,"communication is key."