From the football field to the classroom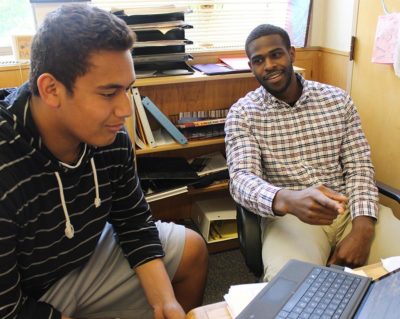 Hang on for a minute...we're trying to find some more stories you might like.
Ryan McCants grew up watching football, then became a running back for the Oregon State Beavers, and now teaches  history  Lincoln High School.
McCants grew up in Los Angeles, California watching and admiring famous National Football League players like Jerry Rice and Ray Lewis.
"Watching them growing up, I gravitated towards the game of football," McCants said. He also had childhood friends play which spiked his interest.He started playing football in the 6th grade.
While he played for Oregon State, McCants was scouted by the NFL and in 2012, he was invited to go to the NFL Pro Day, a chance for NFL scouts to look at college level players.
"I think in most situations when I'm being evaluated I can get nervous but, I was extremely confident in the process and preparation going in," said McCants.
NFL Pro days were very difficult to prepare for, including working out two to three times a day, for six  days of the week, for two and a half months.
"I was in the best shape of my life" McCants explains.
Playing for a college football team is no joke.
"People don't understand how much time and work it takes to prepare for a football season," says McCants. On average, players spend anywhere from 25-50 hours on football commitments each week.
As well as playing football, McCants, along with his Beaver teammate, former offensive lineman Alex Linnenkohl, taught kids how to play football at camps.
"We would coach together at camps all over the northwest ," said Linnenkohl "Watching him [McCants] work with kids it was clear that he has the patience and passion needed to teach."
After college, McCants worked at a psychiatric school as a Child and Adolescent Treatment Specialist. He really enjoyed working with kids in a classroom setting and playing a role in their success.
One of the teachers that worked with McCants suggested that he  apply for graduate school to become a teacher. She helped him apply, and a couple years later became a certified teacher.
"I didn't see that one coming five years ago," McCants said.
In addition to teaching history, McCants is also a coach on the Lincoln football team.