5k will benefit Lincoln mental health program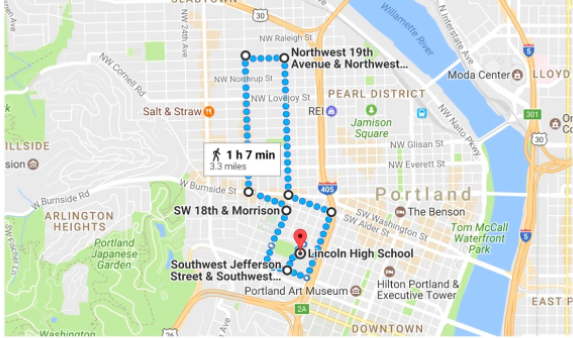 As any Lincoln High School student knows, life can get complicated. And when those complications pile up, things like anxiety and depression can be quick to follow.
That is one of the main reasons Junior Annemarie Field is helping to organize a 5-kilometer run called "Five to Thrive," scheduled for Sunday, May 21.
The goal is to help raise money for the mental health program at Lincoln.
"I am ready to help the students at Lincoln who struggle with balancing their school work, social life, societal expectations, and other reasons, that could lead to depression, anxiety, or bipolar disorder," said Field, who is working with The Church of the City, located at 1220 S.W. Taylor Street, to stage the event.
It will begin at Lincoln's campus promptly at 10 a.m., and will loop back to the campus. The entry fee is $25 and donations are also accepted. The run is in partnership with The Church of the City, who will be processing donations and event fees.
All profits from the race will go towards the mental health program at Lincoln High.
"It depends on how much money we raise, but we hope that it can go to training more faculty and staff how to equip students with mental illness, getting new curriculum, and possibly more staff members," said Rhea Barlow, a representative from The Church of the City. The Church of the City is a non-denominational church, that spoke with Chapman through a networking event to unite local churches and schools.
"We care about the our neighbors in downtown Portland, we care about the young people growing up in this city and want to support and serve them," said Barlow.
Principal Peyton Chapman had a conversation with the Church of the City and brought up the lack of funding for the mental health program. Barlow proposed the idea to run a 5k as a fundraiser, from there the project began.
"Mental illness affects so many people, and stems largely from trauma, abuse, or neglect of some kind and can be misdiagnosed, overmedicated, or just ignored.  Knowing that the school needs more resources to better recognize the signs and meet the needs of students who may be in this position, inspires me to do something," says Barlow.
Leave a Comment