Women's March: a Lincoln perspective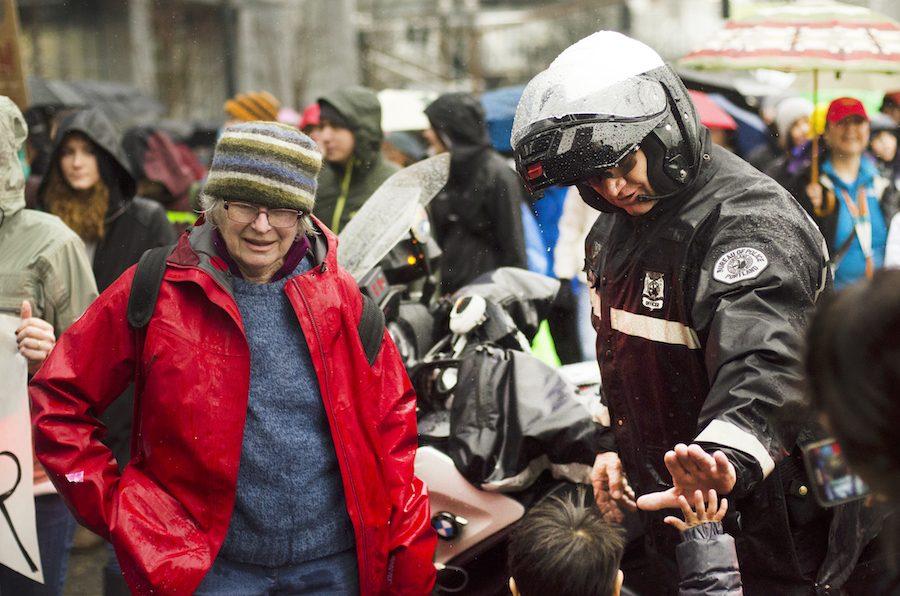 Let's reflect: Saturday, January 21, 2017, marked the Portland Women's March, and an estimated 100,000 people were at the front line. People huddled under bridges, over bridges and nearly everywhere else in downtown Portland, biding their time in a big, claustrophobic group hug.
At 1:15 p.m., it was like a gun went off to signal the start of a race between 100,000 dying tortoises as we all slowly shuffled south on Naito Parkway. Lincoln photography teacher Nancy Abens raved, "It was pouring rain, and it was very empowering, and it was exhilarating."
The permitted march had a planned route in a rectangle from Naito to Jefferson to Fourth Avenue to Pine Street. The march in Portland was one of dozens around the world, with the main Women's March on Washington in D.C which attracted more than 500,000.
That morning, I took the 15 bus line downtown. The four-wheeled monster rolled down the wet streets peacefully. The bus was packed with pussyhats, signs, and raincoats galore, as well as friendly discussion and smiling faces. The bus driver spoke over the loudspeaker: he wouldn't be able to take his normal route and the last stop before the bridge would be Burnside and Second. We hit our stop and the crowd went wild!
There were people coming from all directions headed toward the waterfront, and as I got closer, the crowd got denser. The last time Portland saw a crowd that size was in 2008, when Barack Obama came to town during his first presidential campaign. He drew 75,000 people, myself included. The Women's March's website describes its objective being merely "to march, speak and make our voices heard." I wanted to know more specifically what drew people to the march that Saturday afternoon.
I tried to get the lay of the land, but there were so many people I often found myself at a standstill, worried I was stuck indefinitely.
Meanwhile, seniors Rylie Womer, Emmy Oulman, as well as Ms. Abens were elsewhere in the crowd with their friends and family. I sat down with them post-march to ask a few questions about their experience.
"Especially in this last political year, people have been really divided," Womer said.  "It's important that we all stand together and agree to help support and protect each other."
Abens attested that "Any time you see just giant masses of people, there's just something really exciting about that." But she was there for more than just the big crowd.
"I went because I want my voice to be heard," she said. "It's education, it's certainly abortion rights, [and] Supreme Court nominees are, for me, personally a big concern."
"I want to be informed on the issues, and when something happens that I disagree with, I'm going to protest it. I'm going to write my congressman, I'm going to fight against it."
Almost everyone I spoke with used one word (and its variations) in defining the march, whether they had gone themselves or just heard about it on the news, social media, or from people they know: Unity.
"There really wasn't any one particular policy that people wanted to address." Womer told me. "It was just a lot of people gathering together in a show of unity and support."
Oulmann agreed the march was "a unification of women as a whole" and that, while there wasn't a specific objective, "there [were] a lot of goals for different people."
Senior Ava Meisel and junior Nolan Johnson were more critical of the march. They started with their frustration with the police, comparing police behavior between the Women's March and the Inauguration protest the previous day.
"I'm glad [the Women's March] happened, but the fact that people were buddy-buddy with cops that day… That's not really the point of protesting," Johnson said, to which Meisel finished "because [the police are] inside the system that you're trying to protest."
Next, Meisel critiqued the leaders of the march in Portland and their disregard for intersectionality. "Intersectionality is when you don't define people by one group that they apply to. For instance, a black woman's struggle as a woman is going to be harder than a white woman's struggle because she faces double oppression. So [the leaders of the Portland March] basically were saying 'no, all women have the same struggle.'"
"The actual march [on D.C.] was organized by three women of color and they organized it to be intersectional. The people in Portland said they didn't want it to be intersection, and then the NAACP withdrew and didn't want to take part in it, and then the people that organized the march here put a black women in charge… It just felt like she was the token black women that was in charge since they refused to be intersectional about it at first. They only did that after people got mad that it wasn't intersectional."
Meisel put it simply, "It was a march for white feminism"
Though many Lincoln students were there, Abens defended anyone didn't go. "My mom didn't go, my mom wanted to go. I mean that's a personal choice to go to a march or not… There's so many reasons why people didn't go… some people had to work, some people didn't."
Some have questioned what is next for the movement. To learn more about the Women's March on Washington and their new campaign "10 Actions/100 Days", visit their website: www.womensmarch.com.