In Iranian film The Salesman, assault ruins life of happy couple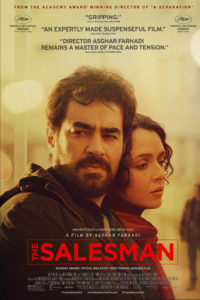 Iranian film "The Salesman," directed by Asghar Farhadi, won an Academy Award for best foreign language film in 2016. It also won other international awards. Farhadi won another Academy Award in 2012 for his movie "The Separation." 
"The Salesman" is about a couple who are both actors and are part of a Tehran production of Arthur Miller's play "Death of a Salesman." Rana (Taraneh Alidoosti) and Emad (Shahab Hosseini), have to move out of their apartment because of structural damages to the building. Rana and Emad have no choice but to move into a smaller and older apartment that their friend and colleague, Babak, is kindly offering.
They have no idea who the last tenant of the apartment was and how that fact is going to affect their lives.
In his films, Farhadi doesn't like to explain a lot; he likes to mention something and then leave it to the audience to determine whether or not they want to see it.
Late one night in the new apartment, when Rana is getting ready to take a shower, she hears the buzzer from downstairs. Without picking up the phone, she opens the door assuming it's her husband. After Emad actually gets home he sees blood on the stairs and upstairs in the bathroom along with broken glass. He finds his wife in the hospital and then realizes that his neighbors were the ones who took Rana there. Rana gets stitches on her head; she's in shock and won't say a word, not then and not even a few days later.  
This movie is about an assault that will ruin a happy couple's life.  We never hear the word "assault," and we certainly don't see it happening, but we feel it. We feel it in the helplessness of Rana, we feel it in Emad's temper and we can feel that he is mad that he couldn't protect the love of his life. He can't let it go.
Being an Iranian myself I am very proud of Farhadi and this movie. Knowing that Iranians are included in the events of the world like the Oscars makes me feel really proud of my nationality.
View Comments (1)