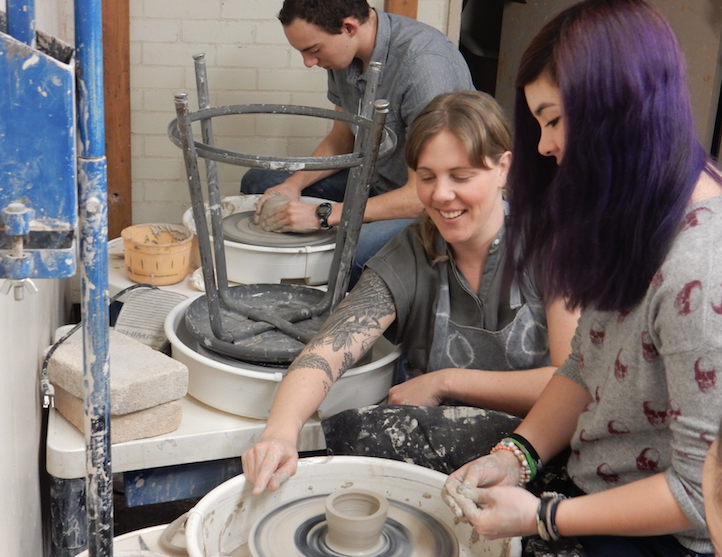 Ty Yamamoto
Devoted teachers and involved students attracted Addy Kessler to Lincoln's arts department last fall. The new ceramics teacher imagined the opportunities ahead for her classes. What she didn't anticipate were obstacles that teaching in an aging school building meant  – like the broken kilns.
Undaunted, Kessler learned the basic skills to keep the equipment functioning. Now, she can put her creativity to work to help students advance their artistic abilities.
"She knows how to bring out the best in her students, even if it requires some tough love. When I was working on my still life project it was hard for me to understand shading, but she really pushed me to try harder and helped me understand where to place shadows," says second-year student Cassie Vildozola.
Kessler's own formal education in the arts includes different art forms she learned while earning her degree from Macalester College in Minnesota. After graduating, she moved to Oregon and pursued teaching, first at Union High School, then at Lincoln.
"I did my student teaching here, so I knew that it was a place I really enjoyed being," she says. "It's really nice to be working with kids that I can see around the city who have similar interests."
As a full-time teacher, Kessler saw many opportunities for the ceramics class. Lincoln's spacious studio allows for less clutter and distraction, and Kessler has organized it to make it easier for students to focus on their work and find materials.
For the first three years in ceramics, Lincoln students learn and develop the basic skills through assigned projects. Fourth-year students enjoy the freedom of independent study, which allows them to create art pieces of their own design.
"Ceramics is a valuable to me because it's the only class in my schedule where I don't have to sit and listen for the entire time," says fourth-year student Clara Greenstein. "I get to use a different part of my brain to physically create something."
The caliber of Lincoln's students has been a revelation, Kessler says.
"I can have conversations with my students and they respond with smart answers. There's this go-getter attitude that's really impressed me," she says.
On occasion, students aren't as engaged in the material, which Kessler believes stems from the misconception that not all students are good at art.
"Some students come into the class thinking 'I am not artistic' or 'I am not good at this,' but everybody can do this. These are things that they are just told, either from themselves or from others, which causes them to just write themselves off," she says. "That's where their focus gets lost."
Refocusing students is a challenge Kessler expected. The broken kilns were a not.  
"It's been frustrating because it's taken a lot of time and energy. I've felt supported by the school, but the building is really old, so there's only so much that anybody can do," she says. "I did learn how to fix some of the basic issues with the kiln myself, which has been kind of empowering. The electrical is old though, so new machinery isn't really an option."
In addition to fixing kilns and running the ceramics department, Kessler has also started a class, "Art in Product Design." It offers a variety of art mediums such as basket-weaving, shoe-making and clothing design.
Kessler has high hopes for expanding in the future, initiating programs such as studio nights.
"You get a lot of help from each other. It takes the pressure off of students and it's really fun to be in the studio when you don't have to be," she says.