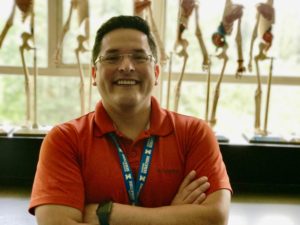 Courtesy of David Valenzuela
As a teacher, how do you contribute to human flourishing in your life? New biology and physics teacher David Valenzuela asks himself this question when students enter his classroom each day. He says he aims to create a more equitable, peaceful and loving world for them through his teaching style, as well as mold them to be the best version of themselves. 
Valenzuela grew up in New Milford, N.J., earning his undergraduate and graduate degrees from New York University in neuroscience and psychology. He attended another four years at Brown University to further his education in neuroscience. Throughout his time there, Valenzuela always felt a tug to teach high school and be in education, so he eventually moved to Portland to get a Master of Arts in teaching from Lewis and Clark College.  
Valenzuela has held many jobs, such as working as a dean, a biomedical Career Technical Education teacher and a science department co-chair. However, he says he has never felt completely fulfilled in any of these roles as he does while teaching. 
When the first wave of COVID-19 hit, Valenzuela, who was a vice principal at Roosevelt High School at that time, reflected on his role, and realized he missed teaching science and directly connecting to students. 
"I have two young ones, so for me the balancing act as a vice principal was really hard, childcare was crazy, so education [returning to teaching] for me was not only friendlier but it was what I was called to do," Valenzuela said. "COVID-19 [made] a lot of people reflect what is important in their lives, like what the metrics of success are that are given to you, and I think for me the place I was the happiest and contributed the most to human flourishing was in the classroom. So after reflecting with COVID-19, I knew that I wanted to teach."
Former co-worker and dean of students at McDaniel High School Dave Kelly believes Valenzuela will fit right into Lincoln's environment. 
"He connects with students in an organic way which is accepting and nurturing," Kelly said. "He is a very clear communicator and will do anything to help the students succeed in their education. [Valenzuela] is a great human being… an excellent father, husband and friend. He will give his all for his community."
 In Valenzuela's first few weeks at Lincoln, he says he already feels welcomed into the community by not only the students, but also the science department. His colleagues embraced his years of thoughts and ideas from studying neuroscience and psychology, supporting and making him feel comfortable in his new role. 
"They received me with open arms," Valenzuela said. "I just think it's been a really nice fit overall and I feel very fortunate in my position that I get to say I'm a Cardinal."