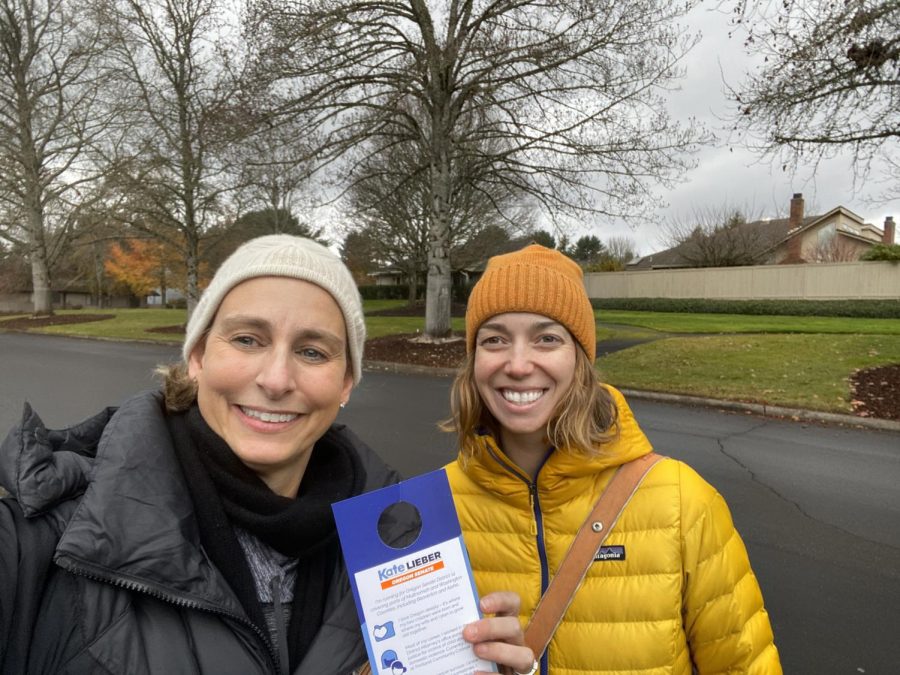 Courtesy of Anna Rozzi
As of today, the United States has reported over 1 million confirmed cases of COVID-19. With over 2000 of these cases in Oregon, the state has taken necessary precautions in order to minimize the spread of the virus. 
While stay-at-home orders have been instituted and all schools in the state have switched to remote learning until the fall of 2020, Oregon has not chosen to postpone the 2020 state elections on May 19. 
Anna Rozzi is the Campaign Manager for Kate Lieber's Oregon State Senate Campaign for the District 14 Senate seat. Last month, I had the pleasure to sit down with Rozzi (over Zoom, of course) and talk about how state campaigns have been forced to resort to non-physical ways of contacting constituents.
Note: these responses were edited for clarity.
Q: How have the deadlines for the upcoming state election been affected by COVID-19?
A: We are really lucky in Oregon; I am very grateful for the fact that we are a vote-by-mail state. We also have paid postage on our vote-by-mail program so that is a huge advantage for our state and also a very equitable and inclusive approach to voting. This is one of the reasons we have not had to push our vote date at all, so our primary remained on May 19. There was a little bit of time where we were worried that the date would be pushed back, but we also understood if it were to be delayed, then that was important and certainly for the greater good and safety of the community.
Q: How has COVID-19 affected Kate's campaign as well as Oregon campaigns in general?
A: No one has ever campaigned during a pandemic, so this is new for everyone. There were definitely some shifts that were made to our campaign and campaigning in general. First, there was a strong recommendation that we should be social distancing, we shouldn't be door knocking and we shouldn't be interacting for constituents. Then a week later, Gov. Brown made the formal statement for social distancing. All these campaigns were suddenly not able to knock on doors, meet with constituents, have debates or forums—all the things that campaigns historically have relied on for constituents to get to know a candidate.
Q: How has Kate's campaign adapted to these changes?
A: We decided to redesign the campaign to be completely rooted in compassion, service and flexibility. In a campaign, you plan a 10-month strategy – sometimes longer – and in those last six weeks, that is the GOTV! [Get Out The Vote] time where it's a lot of door knocking and phone calls and debates and getting Kate out there with the people. With social distancing, none of those things can happen in the way they used to. But, we wanted to make sure that we, first and foremost, were sensitive to the needs of our community members. So we decided that we would focus all of our fundraising efforts to support nonprofits that provide direct need to community members… And then we utilized our voter database, which has information on voters across the state to call constituents to see how they're doing and to see if they have what they need. We have really been utilizing social media and digital media much more. Now, the realization is that we've had this huge shift in our approach to campaigns and campaigning, but it does not change the fact that now more than ever we need people in the legislature who will fight for those who have not been represented and who have been ignored by our society for far too long. This crisis only serves to highlight the previous crises that have already existed in society and have been ignored by those in power. We need a legislator like Kate who will advocate for those people who have lost their jobs, who have small businesses and are suffering, for public education, for elder care and child care and health care workers and frontline workers that are risking their lives to take care of all of us right now. Even though we have had to revamp the way we approach a campaign, I think that it's a powerful opportunity for redesign. The ways that we used to connect to voters… we have had to get creative and push ourselves so everyone can connect. It's really important that people have their basic rights covered and have someone who understands basic rights and will fight for their basic rights.
Q: What kind of difficulties have you encountered in having to campaign mostly through social media?
A: Social media has been an incredible tool for connecting with voters and different organizations. I am grateful that we have so much new tech at our fingertips to increase access and diversify the conversation. That said, the challenge of disinformation and trolls on the internet is ever present. I would like to see better protections for people online and a shift in the way communication happens between those with differing ideology. It's ok to disagree, but let's do it respectfully.
Q: For phone banking, what specific questions are you asking your constituents and have Kate's targets in her campaigns shifted in light of COVID-19?
A: We are asking people how they are doing, if they have any COVID-19 related needs, do they need groceries, are they worried about paying their bills and do they have reliable internet connections? We want to know that people have what they need to ensure equitable access to high-speed internet and devices if we are going to be asking people and children to do everything from home. Some of this is pre-planning and some of it is asking people what they need at the moment so we can send them resources or put them in touch with a group that can help. First, we targeted constituents over 50 years old because that is a high-risk population in COVID-19. Now we are pulling different lists with a broader reach. We have been working with over 30 incredible organizations, including Planned Parenthood and NARAL Pro-Choice Oregon – two amazing organizations that advocate for reproductive justice and who have both endorsed Kate as a candidate – to help us contact people in her district that are pro-reproductive justice. We want to pull those lists and call them to see how they are doing, and can they help with these larger efforts around equity and inclusion in terms of reproductive justice. As we are seeing across the country, COVID-19 is being used as an excuse for removing reproductive rights and access for people. So, when we call these voters we can build our coalition of people who are passionate about the issues Kate will fight for here in Oregon. 
Q: Is there anything you want to add that we haven't touched on?
A: Running a campaign, in general, is really hard but really fun work. My hope is that young people will find ways to get involved in any capacity. One of the things I love so much about being a teacher is the way young people challenge my own understanding of the world and my own biases. I feel like everyone needs to have young people in their corner to learn from, especially legislators… I resent the fact that older people act as though teens are apathetic and not engaged and therefore discount them in the political process. This is an overblown generalization and I have seen the opposite as a person who has worked for over a decade with teenagers. They are so engaged and when they are actually being listened to and valued, they rise. My message is that you all matter and don't let anyone let you think you don't. I'm very thankful to have our eight amazing interns who we couldn't do all of this without. I am eternally grateful.