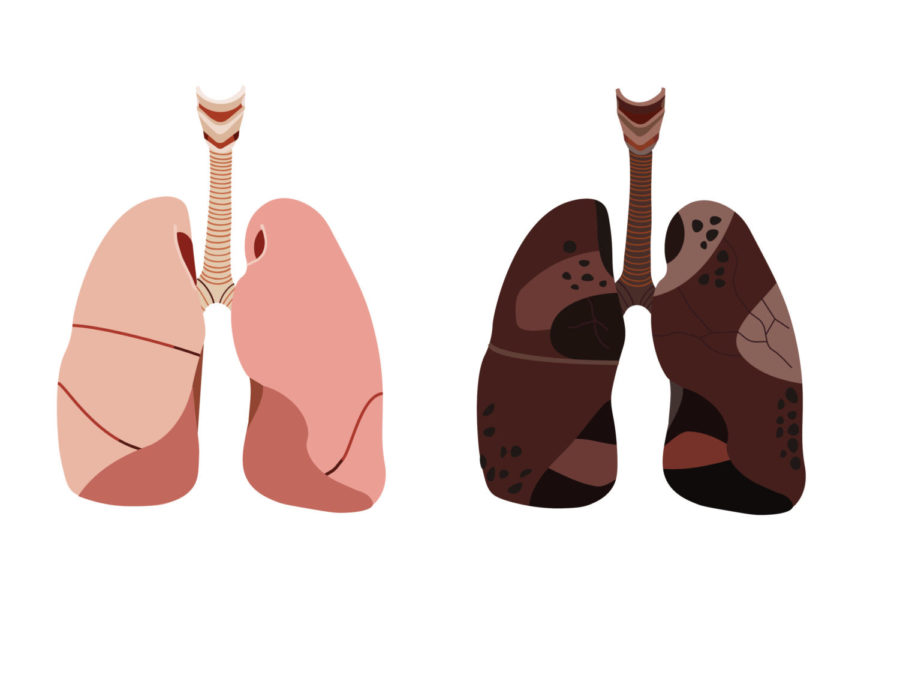 Michelle Yamamoto
In Oregon, one in four 11th graders have reported vaping a nicotine product. Youth vaping of marijuana has increased by 295 percent over the last three years, according to the Oregon Health Authority (OHA). 
This does not come as a surprise to many Lincoln students.  
"I think people originally vaped to look cool, and it quickly turned into addiction," said a Lincoln student who asked to remain anonymous (Student A). "I think peer pressure has lured a lot of innocent people into nicotine addiction."
A vaping epidemic has spread not only through Oregon, but throughout the country, with 47 total deaths and 2,290 illnesses as of Nov. 21, even leading the Centers for Disease Control and Prevention (CDC) to give these injuries a name: e-cigarette, or vaping, product use associated lung injury (EVALI). 
There have been 17 cases of EVALI in Oregon, two of which have resulted in death. Some of these cases involve individuals under the age of 18, according to OHA. 
In response to the new data, on Oct. 15, Oregon Gov. Kate Brown imposed a temporary six-month ban on all flavored vape products including tobacco and cannabis products. This ban excluded tobacco-flavored tobacco or nicotine and marijuana-flavored marijuana or THC products.  
However, two days later, on Oct. 17, the Oregon Court of Appeals granted a temporary stay to Oregon vape businesses, temporarily lifting the ban on the flavored nicotine vape products due to stores' complaints that this ban would severely harm their business, but the Court of Appeals still kept the ban on marijuana flavored products in effect. 
On Nov. 15, the Oregon Court of Appeals extended the stay on the ban to marijuana flavored products.  
Another student (Student B), who has also asked to be anonymous, has vaped.  They believe the ban will not be effective.  
"I think banning vapes would just lead to more students getting them through illegal ways," said the student, "which is even more dangerous than vaping normally."
Student A agrees. 
"I feel like the ban won't have much effect on people. The people who have realized how detrimental vaping has and will be to them have already quit, or started the process of quitting. The people who either realized the impact vaping has on them but don't care enough or think that vaping won't affect them, are trapped."
Lincoln Nurse Mary Johnson is especially concerned about the lack of information on the ingredients in vaping products. 
"Sometimes when we say the word 'epidemic', it sort of goes over people's heads," Johnson said. "I think they think we're overdramatizing it, but actually if you look at the statistics it's very concerning, and I think we're all coming to understand that we really don't know what's in these products." 
But researchers do know why teens vape, according to Dr. Tom Jeanne, Deputy Health Officer and Deputy State Epidemiologist for OHA's Oregon Public Health Division.
"We have a lot of studies and evidence that those flavored products are really what are most attractive to youth and new users in general," Jeanne said. "This latest outbreak is really just one more strong reason that we recommend that nobody vape any substance."
The lungs and heart are also directly affected by the products in the vapor, Jeanne explained. 
"We know that there are toxic chemicals and metals and things contained in the aerosol. It's not just vapor – it's really an aerosol that you're inhaling from a vaping device," said Jeanne. 
Vaping also leads to other addictions, according to Jonathan Modie, Lead Communications Officer for OHA's Oregon Public Health Division.  
"What we see with a lot of people who vape is dual use," Modie said. "So they use vaping products – nicotine – and then they move onto regular smoking products – tobacco products. Most people who smoke in adulthood started when they were teenagers because of that addiction to nicotine." 
Before the ban was temporarily stayed, there was also a concern that people who had started vaping to stop smoking cigarettes would switch back to cigarettes. Jeanne said this was something OHA expected. 
"We definitely anticipated that as a potential risk, so our messaging to the public was really clear: that people who are concerned about vaping should not be switching to cigarettes or what we call combustible tobacco products." 
Jeanne explained that the OHA is working on their statewide prevention campaign and has a free telephone program to help youth and adults quit vaping.  
OHA offers eight weeks of free cessation Nicotine Replacement Therapy for anyone who calls the free Oregon Quit Line: 1-800-OUIT-NOW (1-800-784-8669). The quit line is open 24 hours a day, seven days a week.