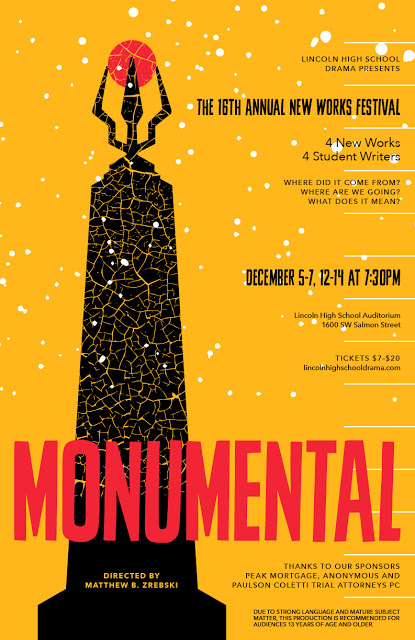 Courtesy of Lincoln Theater Deapartment
Lincoln's 16th annual New Works Festival debuted on December 5th and, like past New Works, featured plays written by students and directed by Portland Center Stage guest director Matthew B. Zrebski. Below are interviews with the four student playwrights.
Make-Believe
by junior Natalia Bermundez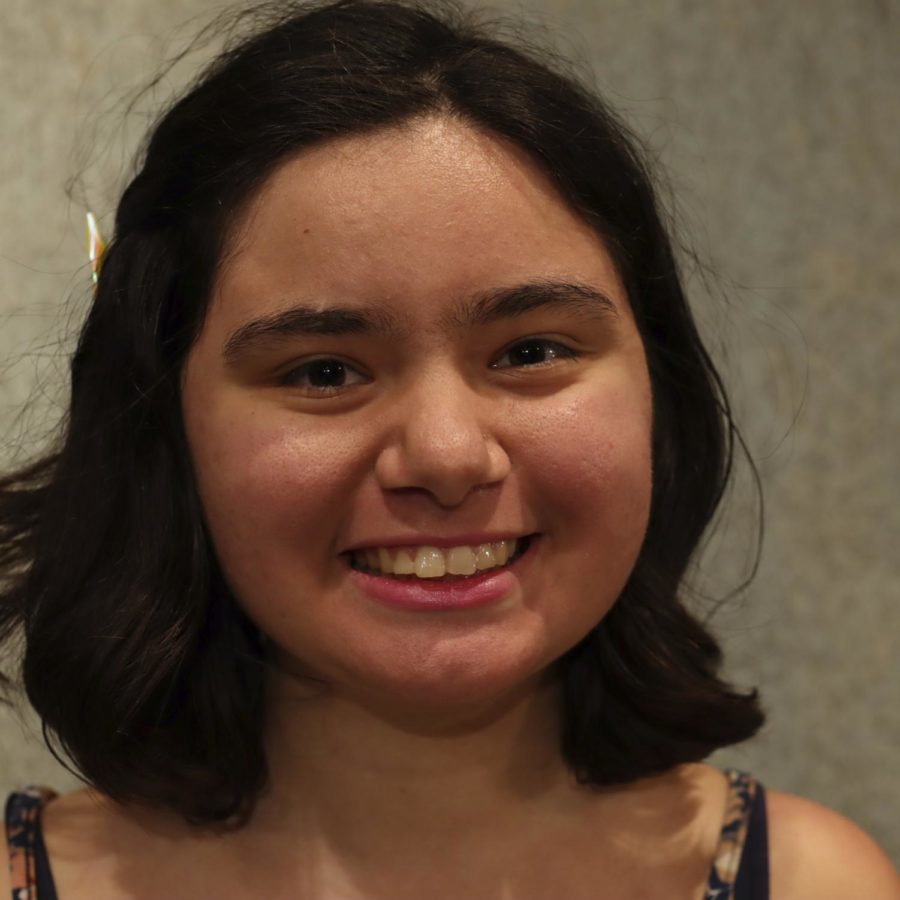 Q: What is the plot of your play? 
A: Make-Believe kicks off after a monument has appeared in the parking lot of a high school, with no explanation. Four teenagers meet up at the monument and discover the existence of an imaginary figure named Cypress they used to play with when they were all children. Through Cypress' clues, they discover more about the monument's abilities and regain connections to each other, their imaginations and their humanity. 
Q: What was your inspiration to write this play?
A: As a child, I loved playing all sorts of ridiculous make-believe games. Something I had on my mind was how much of a creative outlet that was, and I've been fascinated by the imagination and being carefree that comes with childhood, and you don't ever really seem to regain it once you grow up. That was something I really wanted to explore, and whether it's even possible to return to the feeling of childhood. 
Q: Why should students come to see this play?
A: The entire festival is such an amazing thing to have here at Lincoln. All the actors, crew members, and yes- playwrights put so much into this process that it's incredible.  For Make-Believe, specifically, I think it's going to be really a fun show to experience, and childhood nostalgia and lost friendships, which I think are things that everyone can connect to.
Humanicana
by senior Tavie Kittredge 
Q: What is your play called?
A: Humanicana. 
Q: What is the plot of your play?
A: I can't tell you that! Come see the show and you'll find out. I can tell you that it takes place 100 years in the future, and there's an alien invasion, secret identities, lesbians and comedy.
Q: What inspired you to write this play?
A: At first I thought I'd write this really deep, meaningful play about the American ideals of freedom and the contradictions there. But then it mostly morphed into this crazy wild comedy.
Q: Why should students come to see this play?
A: You should come see this play because it might make you laugh! I spent months trying to make it a good time (here's to hoping), and I just sat in for my first rehearsal yesterday, and the actors are so talented and they all bring such energy to the stage.
Paradise
by senior Noah Clark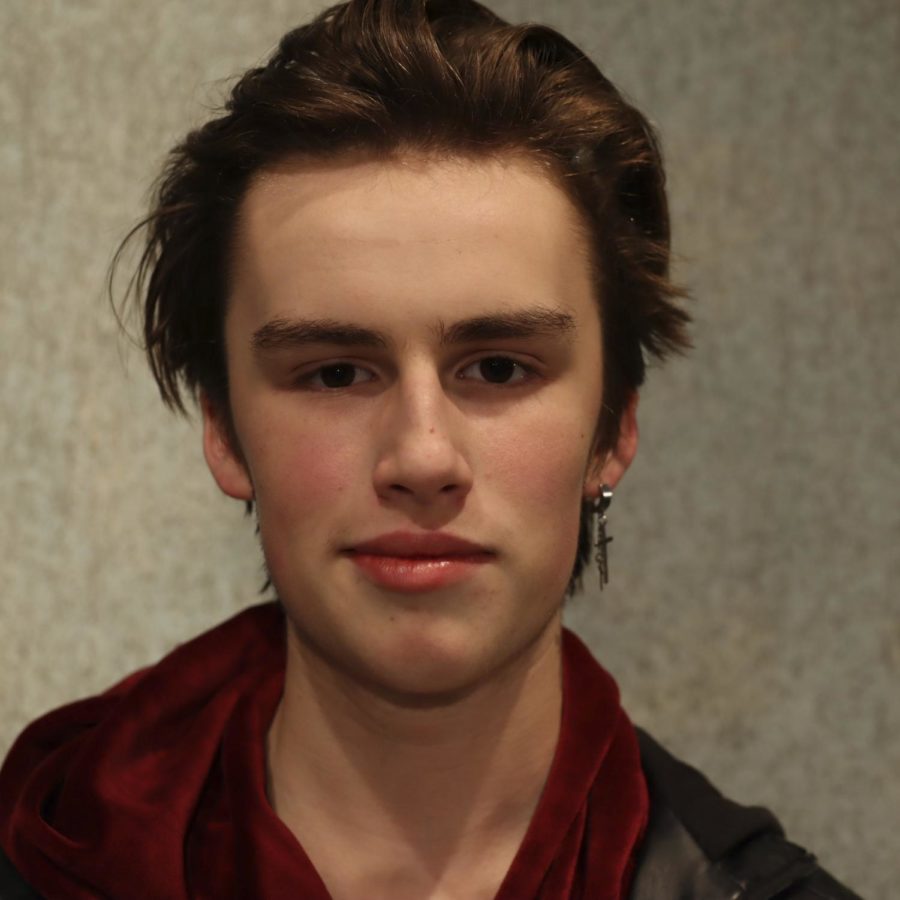 Q: What is the plot of your play?
A: The general plot is a young girl has managed to make her way into a small, isolated community. She comes from a place of chaos and violence, and has heard about this community only in legend. However, when she gets there, she finds out that this place might not actually how it seems.
Q: What was your inspiration to write this play?
A: I was inspired to write my play after seeing the immigration crisis we're having in the United States. It pains me to see children and families separated from each other while trying to seek a better life. I wanted the plot of my play to resemble this conflict and show the audience how heartbreaking this really is.
Q: Why should students come to see this play?
A: I think students should see the whole showcase in order to show their appreciation for the arts. It would be nice to see that myself and the other playwrights' hard work is actually shown to an audience of peers. I also think people will really enjoy it.
Papers
by senior Zachary Goldsmith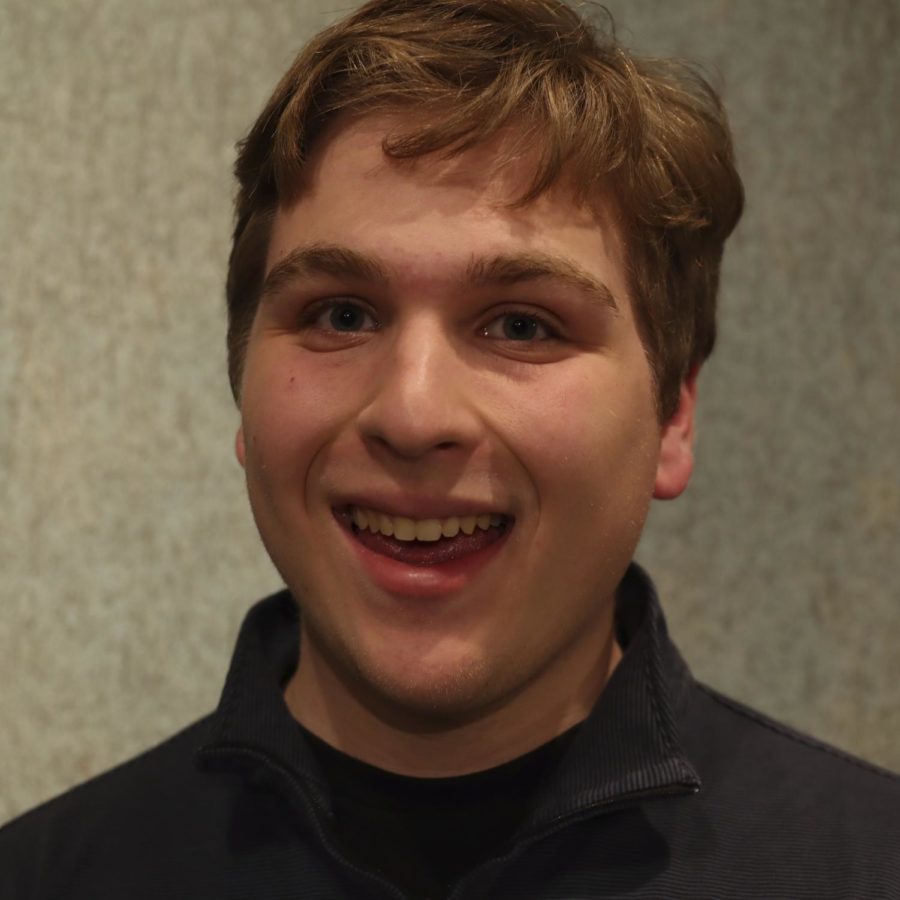 Q: What is your play called?
A: Papers. 
Q: What is the plot of your play? 
A: It is a 5-part series of intertwining monologues of 5 characters. Each character gets assigned the "special essay" in their English Lit class, their prompt being "regrets and tragedies." As each character writes their essay, they begin to confess about their own past regrets, their present connections to each other and what they plan for the future.
Q: What was your inspiration to write this play?
A: You can tell a lot about a person by the way they write an essay, and essays themselves are essentially forums for analysis. Also, the writing process, to me, mimics other cycles in life. As teenagers, we can all relate to writing an essay, so I thought that would be an interesting lens in which to access other cycles of life. Also, I like to challenge one theatrical norm per play. This time, I wanted to light things on fire onstage. Turns out there are a lot of regulations around fire onstage, so that got cut from the draft early on. 
Q: Why should students come to see this play?
A: For all of New Works: I truly think that there's always something for everyone; there is satire, drama, magical realism, intense staging, a giant monument onstage, etc. All of the plays are written by teens and for teens, which for me makes them even more impactful. Seeing live theater is super important for our generation because it allows us to disconnect, empathize and be in the moment. For my play: I think my play allows for people to see themselves. Everyone's written an essay or gotten called out by a teacher or lost a friend. Fair warning, it is an emotional rollercoaster, but I think it is really a powerful piece. 
Q: Anything else you would like to add? 
A: Please continue and support live theater. Nowadays people tend to disregard it, but theater is powerful and enthralling and a magical experience.