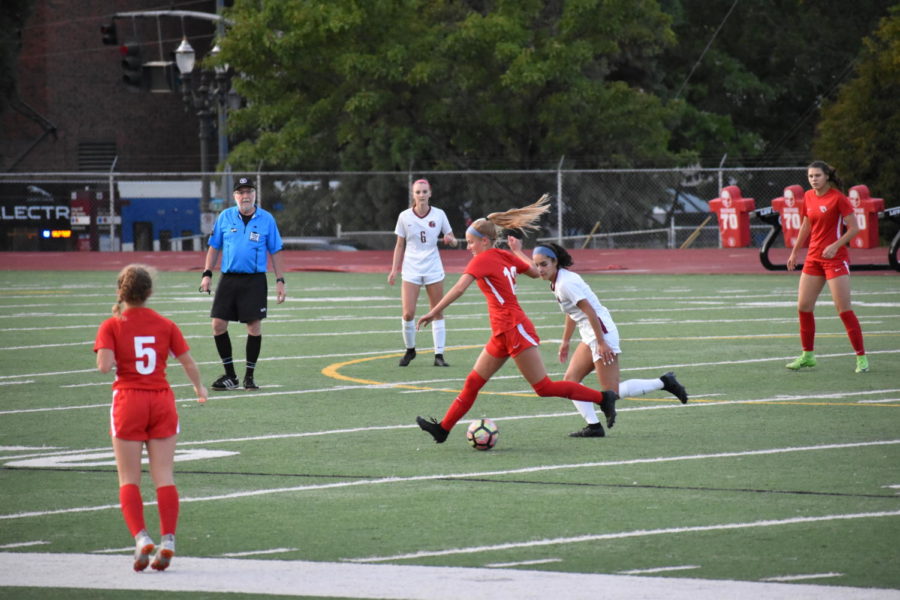 Photo Courtesy of Gabby Shaffer
After a long summer of training and tryouts, fall sports are finally underway, and each team is looking forward to the upcoming season. Here is a summary of the varsity-level teams and their goals for the year.
FOOTBALL
Football season started Sept. 6, with Lincoln opening their season at Canby and coming home with a nail-biting 26-22 win. With 22 underclassmen on the roster, the future is looking bright for the Cardinals. Coach Jeremy Johnson said that the goal for the season was to "transform the minds and hearts" of his players. Football's home opener is on Sept. 20 against Franklin.
BOYS SOCCER
Looking to build on a strong 2018-19 season, the boys started their season on Sept. 5 against South Eugene, a rematch of last year's second-round playoff match. This years game, which ended in a 1-1 tie, started the regular season. Senior captain Andrew Parshall hopes to use early games to "give our younger players experience." The team is replacing 13 seniors from last year, and, under the leadership of coach Pablo Dipascuale, the boys are hoping to make this year one that is unforgettable. The final regular season game is a rivalry match against Grant on Oct. 24.
GIRLS SOCCER
Girls soccer kicked their season off on Sept. 3 against Jesuit, and they are looking forward to a great year. Captain Chloe Walton took a moment to appreciate head coach Esty Geiger, who is entering her third season,
"Esty always has our back and is constantly encouraging us, which really gives us confidence during games," said Walton.
Joining Geiger in her first year is assistant Luciane Wentz, who has professional experience in Brazil as a player, and has coached at the college level. With these two leading, the team has full confidence that they'll have a great year.
CROSS COUNTRY
Cross country started their season off with a bang on Aug. 30 at the Wilsonville Night Meet. Freshman Kate Peters won the freshman race by more than 40 seconds, with the girls cross country winning three out of seven races. When asked what makes the team so special, head coach Eric Dettman attributed their success to the fact that "Everyone supports each other. From runner no. one to runner no. 75, everyone is cheering for each other, and we are a really tight-knit team."
 Next up for cross country is the Bob Firman Invitational in Idaho on Sept. 21, one of the biggest national meets of the year. 
VOLLEYBALL
Volleyball opened their season on Sept. 5 with a game against Jefferson, ending with a win. Looking to follow up a season where they went undefeated in league play and finished with 20 wins, one tie, and only three losses last year. Junior Izzy Guastedisegni is confident in saying that the biggest key to the season is, "Working together as a team and trusting one another."
The entire team is under new leadership, and Guastedisegni said the team is very excited to work with and learn from coaches Jeanelle Franceschi and Danielle Arnold.
DANCE
After finishing second overall at state for 6A Dance and Drill last year, the dance team hopes to achieve excellence this year. When asked what dance has taught them, seniors Anna Frankhouse, Sydney Jones and Naomi Friedman agreed that dance has helped them understand the value of sacrifice, and that the hours they put into practices and competitions always pays off in the end. Dance opens their season with a competition on Nov. 2 at David Douglas.
CHEERLEADING
With practices starting Aug. 5 and continuing three times a week, cheer has been in session far before school started. Every Friday, cheer shows up alongside football, starting Sept. 6 through Nov. 1. Captain Ella Craig is excited to learn new stunts and routines, along with building trust in her teammates as the year progresses. When football season ends, cheer continues with basketball games and competitions that continue through December and January.