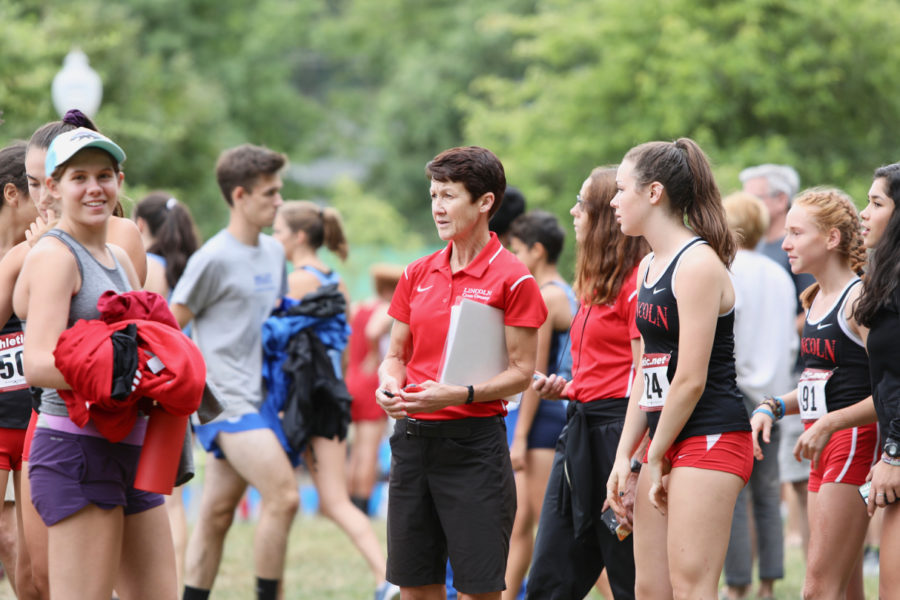 Photo Courtesy of Rich Meyer
15 years, 14 combined district titles and ten individual district champions.
These are the numbers that have defined Suzanne Parry's coaching career.
And after her 15 years with the team, Parry is stepping down as head coach of Lincoln cross country.
During Parry's time with the team, Lincoln has seen 22 boys and girls teams combined qualify for the state championship race. The boys' highest finish was second place in 2015, while the girls' highest finish was this season, placing third in the state.
Before she was at Lincoln, Parry coached high school girls' basketball in Germany and middle school boys' basketball at West Sylvan. Parry started coaching at Lincoln in 2004, almost by a stroke of luck.
"A young man named Duke Wasteney, who was a terrific distance runner and wrestler here [at Lincoln], came to me in the spring of 2004. He and his parents asked me to coach him privately."
At the time, Parry had never coached anybody privately, but she personally knew the Wasteneys as family friends.
"That's when I decided, 'I should do this at [Lincoln],' and I went to the then-head coach David Bailey and asked if he needed a volunteer, and he said 'sure,' and the rest is history," Parry said.
Wasteney won eight varsity letters at Lincoln, placed fifth at state in the 1500m, and went on to run for the University of Oregon.
"Suzanne's voice is still in my ear on days when I don't feel like getting my running shoes on," said Wasteney. "She dedicated so much of her undivided time to me that I will forever be thankful for."
Parry became Lincoln's head coach in 2008.
"The thing that I did differently from [my] predecessors is that I am a very good communicator. I worked very hard to communicate with the athletes what the expectations were on a daily basis, on a weekly basis, and with the parents as well," she said about what has brought her success.
Parry put emphasis on not overworking her athletes, calling Lincoln "the best low-mileage program in the state."
"For athletes to run their best in high school has never been our goal. You can train a team to win a state championship. You can have them running lots of heavy miles, and work hard, and try to keep them healthy, and they'll get very fast. But the body breaks down, ultimately," she said.
"I think people in the [Lincoln] program have come to see that we love and value them as a human being and that their futures are really important to us. More than anything, I want to encourage people to love running," said Parry.
Another element that helped build the program was Parry's focus on each individual runner.
"When I first started coaching, my goal was to speak to every athlete every day. And I did that almost my entire career," said Parry.
Senior runner Jalen Javurek agreed with Parry's methods.
"We have built the legacy of a strong team community," he said. "It doesn't matter if you are JV or varsity; every single person lays it all on the line when racing."
Javurek placed 24th at the state meet on Nov. 3 after overcoming two stress fractures in the past year.
"Through the whole experience of getting over my injuries, Coach Parry was extremely supportive and flexible with what I needed to do to get healthy again," Javurek said. "She also taught me that a strong work ethic can pay off big-time."
Parry started coaching at Lincoln the same year as Kathy Parker, the former 5000-meter world record holder.
"I admire the fact [Parry] has a passion for the sport and can understand what [the athletes] are all going through," Parker said about her colleague. "I admire that she can say the tough things but she always has a hug for you at the end of it."
"She's just a great role model, she has a ton of integrity, and she has a ton of heart. Someone who I admire on a personal level, she's just so brilliant," said Parker.
In addition to coaching, Parry has run 38 marathons. Her fastest was in three hours and 25 minutes during a year in which she ran eight marathons.
Parry's favorite memory is racing the Comrades Ultramarathon in South Africa.
"It's a 56-mile road race, and kind of a grueling event in the heat; extremely hilly, over 11,000 ft of elevation change in the race," she recalled.
"The things she's done professionally in her life before [coaching] are mind-blowing," commented Parker.
Parry used to work as an arms control negotiator for the US Pentagon, helping to achieve international national disarmament or arms limitation.
"I always say that being a negotiator helps you raise children, and it really does. It's not the same as coaching, but even now sometimes, you'll see me negotiate with [athletes] over a workout or something else," said Parry, smiling.
On top of being dedicated to her runners, Parry also devotes time to charitable organizations. One of these has come over the past four years, during which Parry has come to know former Olympian and NCAA 800 meter record holder Julius Achon. Achon started the Achon Uganda Children's Fund in 2007, which helps Northern Ugandans receive access to health care and education. The AUCF built a health center in 2012 and recently added a maternity ward.
In 2014, Parry started the Achon Distance Classic, an annual two-mile fundraiser race at Lincoln. Since 2014, the cross country team has raised over $60,000 for the AUCF.
"It makes a big difference. $50,000 pays for everything for that clinic; every salary, all of the utilities, everything they need for a whole year," said Parry.
With her help, Julius Achon came to speak to the current cross country team at Lincoln on Oct. 11. Next year, Parry and Parker will travel to Awake, Uganda, the village where Achon grew up.
"When you're raising a young teen, you're trying to teach them certain values, you're trying to build their character, teaching them how to work hard, how to be part of a team, how to be gracious and humble, how to persevere when things get tough," Parry said, referring to the lessons that she has learned while coaching. "When my kids were young, I realized that athletics was one of the best ways to teach kids those character traits."
In the last two years, the girls' team has placed higher at the state championship meet than they have in over 20 years, something that Parker attributes to changes in girls' athletic programs.
"I've noticed there are many many more girls [competing] at a higher end than there used to be," said Parker. "I just think that girls are more confident about training a little harder than they were 15 years ago."
Assistant cross country coach Scott Gravatt was inspired the most by Parry's ability to be a leader in the community as well as on the cross country team.
"[Parry] has an emphasis on building better people first, and then better runners afterward. She has influenced a whole generation of high school kids to be better people and to make better choices, and the running comes secondary," said Gravatt. "Everything I know about running and coaching, I've learned from Coach Parry."
Eric Dettman was hired by Parry as an assistant coach in 2013. A high-level competitor at the University of Oregon and national champion at York High School under former US Olympic coach Joe Newton, Dettman hadn't realized what it took to coach successfully until he came to Lincoln.
"I think [Parry's] independent thinking is an incredibly powerful gift; her belief in herself, her belief in others and the way that she can instill that in people is a really powerful motivator for me," said Dettman. "Overall, that strength that she possesses is really inspiring."
Dettman recalled his first district meet with Lincoln, the Metro League championships in 2013. Lincoln went in as the number four seed.
"With 2000 meters to go, we were in fourth, and with 1000 meters to go, we were in first. I remember walking over to Coach Parry because I was super fired up about it, and the look in her eye when she said, 'I think we did it. I think we did it.' That experience for me with her was certainly a forever moment."
Dettman will take over as the sole head coach after she steps down.
"The best thing I ever did as a coach was six years ago, [when] I hired Eric Dettman," said Parry. "It's really important to me that the program is in good hands. When I first hired Eric, that was my goal. I knew pretty quickly he'd be a good head coach and would be able to run a program like this."
Gravatt addressed the future of the program after Parry leaves, saying that "we'll carry on [her] legacy. The things [Parry] taught us aren't going to go away; they're going to be the foundation and the building blocks."
Parry is broadening her career beyond cross country by writing a novel: a fictionalized account of the Siege of Leningrad. After stepping down, she will stay with the team part-time as a volunteer.
"There will be a lot of things that I miss [about coaching], but there is this unbelievable joy and sense of accomplishment when an athlete finally gets a personal best time. When they finally get a goal that they've been striving for two or three or maybe four seasons. Those are very short moments in a coach's life, and they're very beautiful when you see the reward," said Parry. "I'll miss all of it, to tell you the truth."